About Google Nexus 7 (2nd Generation)
Showing slide {CURRENT_SLIDE} of {TOTAL_SLIDES}
Smart, thin and gorgeous.

The clean, simple Nexus 7 design features a slim body, a thin bezel and a soft-touch, matte back cover. It sits comfortably in the palm of your hand while the bright, beautiful 7-inch display brings entertainment to life.

Lighter than ever, lasts longer.

At just 0.64lbs (290g), the light Nexus 7 fits easily in bags, backpacks, and even back-pockets. With wireless charging and up to 9 hours of HD video playback and 10 hours of web browsing, there's plenty of juice to get you through the day.

Connect from anywhere.

With dual-band Wi-Fi and optional 4G LTE, including support for hundreds of networks worldwide, you'll stay entertained – and connected – wherever you are.

Eye-popping performance.

The 7-inch tablet puts over 2.3 million pixels in the palm of your hand. You can read text that's sharper than a printed page, see images more vivid than the highest quality photo magazine, and watch movies come to life in vibrant full HD.
eBay has provided more information about this product above and is not affiliated with or endorsed by ASUS.
Price Trends
ASUS Google Nexus 7 (2nd Generation) - Price Used
Used Price*
from $49 to $67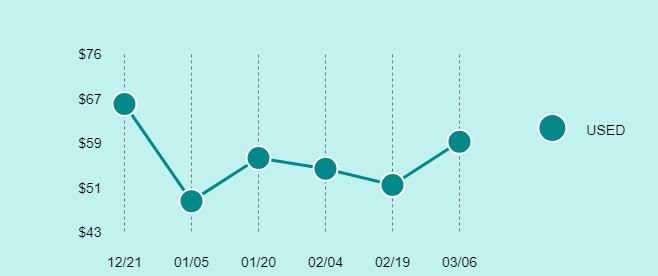 *The average sold price is calculated based on "Buy It Now" items sold within the 90 day period described above (excluding shipping and handling). Each interval represents a 15 day period. There is no guarantee that items will always be listed at a price within the provided range.
Compare Similar Models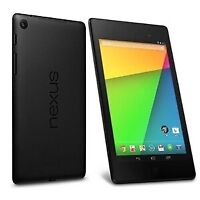 Asus Google Nexus 7 2nd Gen
Screen Resolution
1200x1920 pixels
Camera Resolution
5 MP Rear / 1.2 Front
Operating System
Android 4.3
Weight
10 oz. Wi-Fi only / 10.5 connective version
Showing slide {CURRENT_SLIDE} of {TOTAL_SLIDES}
Much better than Gen 1

I bought this tablet used, after being disappointed that the Gen 1 I had bought previously seemed to slow down significantly after just a couple of weeks. The reviews of the Gen 2 vs Gen 1 all mention the much greater screen resolution, and although the numbers are certainly higher in the Gen 2, in practice I didn't see that much of a difference between the two. So if you have a Gen 1 now and are happy with its performance, don't buy a Gen 2 just because of its higher screen resolution., , I bought this tablet mostly to use as a portable GPS and mapping device on my motorcycle. I have downloaded almost the entire "mitten" of Michigan (about 435MB), and with it, I will never be lost (as long as I continue to "update" the map every 30 days). The navigation function is very nearly up to the levels of a dedicated GPS navigator., , I also have saved a few programs from Netflix to watch as I travel, as well as several complete albums of my favorite music, as well as a few games. Even with all that, I still have about 75% of the 32GB capacity left., , In short, this is a good one. Seems to work as I want it to work. Highly recommended.

Verified purchase: Yes

Best pure-Android tablet

If you are looking for a pure-Android tablet in a smaller size, this is the best you'll find. Even though it is no longer receiving updates and is end-of-life, if you are careful about what you download it still does the job. I especially like the wireless charging, which newer Google devices do not support, and the NFC capability, not to mention the nice Android 6.0.1 interface and battery-saving features., , With the decline of the tablet market, the only other current options (Samsung, Huaweii) are heavily-skinned and and include bloatware that forces the vendor's duplicate apps in addition to those that Google already provides. The Nexus 7 is streamlined and responsive, and is the perfect size for reading ebooks, browsing the web, and other tasks where a larger screen is preferable., , The screen is not particularly high-resolution but the image is clear and readable, and colors are good enough for those who aren't professional photographers. The camera is not great, but I use my phone for that. This is an acceptable trade-off considering the general use for a 7-inch tablet.

Verified purchase: Yes

Preferred Tablet

This is my second Nexus 7, I still use the first one, but it was only 16GB, first Gen and began having some issues after 4 years of constant use. The issue was primarily with staying connected to WiFi. Email and audio storage are important uses for me. So, I bought a 32GB Nexus 7, 2nd Gen on Ebay and I love it. So I use both currently, keeping the older one for it's stored content and the newer one for internet connection and current downloads of audios. The screen quality is amazing, it takes great photos. Only drawback with photos is that it does not resize them. Has front and back cameras and very good sound. I love it and wish that Google would have just improved upon it instead of inventing that overpriced mess, Pixel 1000, or whatever it's called,

Verified purchase: Yes

Old but OK only consider it a WiFi device

The device is dated and of course Google doesn't support it anymore., Easy enough to get rooted though with online instructions and no aftermarket, software is need to unlock the bootloader and get the thing rooted., Since I use Ubuntu, I was able to use adb and load the next Gen, CM which is LineageOS without trouble. SuperSu and MultiROM go, in very nicely. Only thing missing is the ability to use an an onboard micro SD memory card., , The "phone thing" is a really big letdown. It's only for data period! So if one is going to be isolated (where there is cell phone coverage) it's just a link to the internet that's all. No voice phone service. There are instructions online about going through SIP but my subscription card only has data and texting available. Well, at least the Hangouts dialer will get a free call out in the US via WiFi so that's a consolation., , The one I picked up was in immaculate shape. I suspect prior owner didn't like the fact it couldn't be used as a voice cell phone. I bet a bunch of people were disappointed about this., Me, I'm ok with it as I didn't want to whack my 2013 Flo iteration (WiFi only) to experiment., As it is, I have this one setup the way I want to and my whack the Lineage OS to my Flo device now., , Again, a real big plus is ease of unlocking the bootloader and rooting without aftermarket, "report back to China" software.

Verified purchase: Yes

Excellent Tablet ! !

This Nexus 7 (2nd gen) is a wonderful tablet ! ! I have been looking at tablets for awhile from the cheap off brand to the much better branded products ! ! I am so glad I choose to get a Google Nexus 7 (2nd gen), as soon as I got it it started to update itself. It was up to Android Lollipop the first day ! ! I turned it on a couple of days ago and it informed me it was ready to upgrade to Android 6.0 Marshmallow ! ! That's the nice thing about having a Google tablet, they upgrade long before any of the others., , I bought this tablet mainly to play games on and to use as a remote on a Logitech Harmony Home Entertainment Control System. I was going to use my cell phone as a remote on the Logitech system but the screen is so small compared to the Nexus and it is nowhere near as responsive either. I have not set that system up yet but I am sure the Nexus will do excellent for what I plan to use it for ! ! I could have spent a lot less money on a tablet but I didn't want to cheap out on this item and I'm glad I didn't ! ! Every Item I bought for my new Entertainment system I read the reviews and went with the best recommendations and found everything here on eBay at below retail price, except my new HDTV. That was at retail even here on eBay because I went new not refurbished ! ! I just got the TV so now I'm ready to set it all up and dial it in, , If you are looking for a smaller tablet the Nexus 7 is a really good choice ! I chose the second generation (2013) because it has a much faster CPU in it compared to the first generation model and it's thinner and lighter. I wanted a smaller tablet I could hold in one hand and operate with my other hand the Nexus 7 fits that description. I couldn't do that with a larger tablet so the 7 inch is perfect for that. All the reviews I read said even though this tablet has been on the market for a couple of years it is still the best choice for a seven inch tablet ! ! It's made by Asus for Google and I know Asus makes good products. I'm very satisfied with my purchase of this tablet and would buy another if I needed one ! ! Oh! Let me add too that the screen is High Definition and looks fantastic, plus it's very responsive for a touchscreen ! !, , Larry T

Verified purchase: Yes
Tell us what you think

- opens in new window or tab