About DJI Mavic Pro Platinum
Showing slide {CURRENT_SLIDE} of {TOTAL_SLIDES}
Flight ready.

Mavic Pro Platinum features a sleek design and compact body that is both powerful and alluring. An improved 30-minute flight time coupled with 60% noise power reduction is impressive.

Sturdy and silent.

The 8331 propellers give the Mavic Pro Platinum an impressive noise control performance, and the FOC ESC drivers offer sinusoidal current for increased stability.

Feather-light, ready for flight.

Weighing just over 1.5 lbs, the Mavic Pro Platinum drifts smoothly into the air on activation, with a max ascent speed of 16.4 ft per second.

Avoid obstacles.

With the ability to detect obstacles at 2 to 95 feet at varying levels of precision, avoid near-misses or collisions while you fly.
eBay has provided more information about this product above and is not affiliated with or endorsed by DJI.
Price Trends
DJI Mavic Pro Platinum - Price New and Used
New Price*
from $772 to $899
Used Price*
from $700 to $844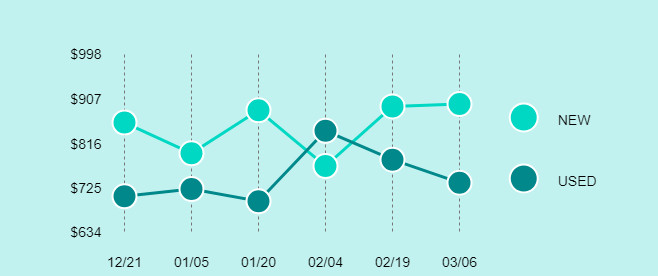 *The average sold price is calculated based on "Buy It Now" items sold within the 90 day period described above (excluding shipping and handling). Each interval represents a 15 day period. There is no guarantee that items will always be listed at a price within the provided range.
Compare Similar Models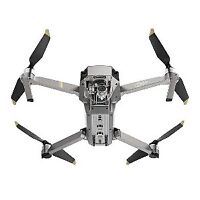 DJI Mavic Pro Platinum
Camera Type
Fixed Camera Drone
Video
4K@24fps, UHD@30fps, 1080p@96fps, 720p@120fps
Image Stabilization
3-axis Gimbal
Maximum Video Bitrate
60 MBPs
Weight
743g (with gimbal cover)
Showing slide {CURRENT_SLIDE} of {TOTAL_SLIDES}
DJI MAVIC PRO PLATINUM

Everything works perfectly. Got lots of extras in this package some i use and well some i don't. But i have them incase i need them. Been flying everyday since i got and no problems. Would deff but if ur checking it out

Verified purchase: Yes

Mavic Pro Platinum - Soooo FUN!

This foldable drone is extremely fun to fly! It is very responsive, although it is made for more stable flying than darting around. It has a ton of features and the photo and video quality is outstanding., I highly recommend you purchase this drone, if you have the means.

Verified purchase: Yes

Best drone for the money

If you can afford this $1000 plus toy i highly recommend it great battery life at least 15 minute flight time and goes 1600ft high This is the best higher end cheap drone you can buy goes 40mph in sport mode

Verified purchase: Yes

Best in class

Quality, versatility, range, price. there is a learning curve but with any quality product that is normal. the phone number provided was invaluable in helping with set up. the beginner mode was a great feature in learning with minimal risk. All in all this product was absolutely best in class.

Verified purchase: Yes

Don't let it's small size fool you...

I recently sold two DJI Inspires and purchased the DJI Mavic Pro Platinum. The build quality and fitment is excellent. It's simple, quick and easy to get it up in the air while still producing excellent 4K videos. There are so many excellent features from follow you to obstacle avoidance., , The Mavic is stable enough to fly in light winds but so compact, you could easily slide it under the seat on an airplane., , The kit came with enough accessories, extra batteries and a small carrying bag. I chose to purchase a slightly larger carrying case so I can take everything with me., , I would highly recommend this drone. Having half a dozen other drones (many are DJI products), this one is the probably the best drone they make.

Verified purchase: Yes
Tell us what you think

- opens in new window or tab