About Bose SoundLink Revolve+
Showing slide {CURRENT_SLIDE} of {TOTAL_SLIDES}
Deep. Loud. And immersive, too.

This true 360° speaker was engineered to spread jaw-dropping sound in every direction. That means when everyone stands around it, everyone gets the same experience. If you set it near a wall, sound will radiate and reflect around the room.

More to hear. More to share.

Don't let its size fool you. This pint-sized enclosure is packed with more technology than meets the eye. A highly efficient transducer. Dual-passive radiators. An omnidirectional acoustic deflector.

Sings in the rain.

You're not afraid of a little water. Your speaker shouldn't be either. SoundLink Revolve's water-resistant design means you can use it more places without worrying, such as the pool or by the kitchen sink.

Bumpers for bumping.

You're not perfect, and with this speaker, you don't need to be. No worries if you knock it over, toss it in your bag or set it down a little harder than you meant to. Soft materials let you bump worry-free.
eBay has provided more information about this product above and is not affiliated with or endorsed by Bose.
Price Trends
Bose SoundLink Revolve+ - Price New and Used
New Price*
from $236 to $251
Used Price*
from $179 to $199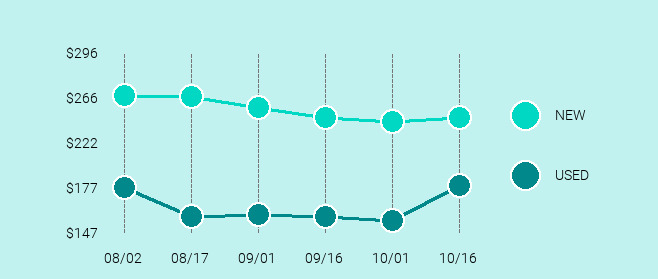 *The average sold price is calculated based on "Buy It Now" items sold within the 90 day period described above (excluding shipping and handling). Each interval represents a 15 day period. There is no guarantee that items will always be listed at a price within the provided range.
Compare Similar Models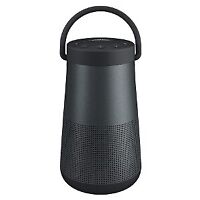 Bose SoundLink Revolve+ Bluetooth speaker
Dimensions
7.25" H x 4.13" W x 4.13" D
Battery Life
Up to 16 hours
Wireless Range
Up to 30 ft (9 m)
Connectivity Interfaces
Bluetooth, NFC
Inputs/Outputs
3.5 mm AUX, Micro-B USB port
Sound Effects
True360 sound
Showing slide {CURRENT_SLIDE} of {TOTAL_SLIDES}
Bose SoundLink Mini Bluetooth speaker II

Dimensions

2" H x 7.1" W x 2.3" D

Battery Life

Up to 10 hours

Wireless Range

Up to 30 ft (9 m)

Connectivity Interfaces

Bluetooth

Inputs/Outputs

3.5 mm AUX, Micro-B USB port

Bose SoundLink Revolve Bluetooth speaker

Dimensions

5.97" H x 3.24" W x 3.24" D

Battery Life

Up to 12 hours

Wireless Range

Up to 30 ft (9 m)

Connectivity Interfaces

Bluetooth, NFC

Inputs/Outputs

3.5 mm AUX, Micro-B USB port

Sound Effects

True360 sound
Bose hits a home run!

I have many Bluetooth speakers and the only one that outperforms my "Bose Revolve +" is my "Creative iRoar", but only when you add the "iRoar Rock". The "Revolve +" is more portable, easier to carry around and a bit more rugged, plus the sound quality of the "Revolve +" is outstanding, with decent bass and crisp highs. My "Peachtree Deepblue 2" beats them all, but it is not battery powered and is a little out of the portable category. The "Bose Revolve +" takes it, for my all around best portable Bluetooth speaker.

Verified purchase: Yes

Bose Revolve +

Very nicely built 360 speaker. The build screams quality as expected from Bose. Sound is amazing, if you love their signature sound. Bass is good and can sound pretty awesome depending on where you place it. I replaced my old 1st Gen UE boom. Is it worth it for the price, that depends on what how deep your wallet is. Money is well spent IMO, if you're looking for a higher end portable speaker. Beats the sound off anything it's size. +++++

Verified purchase: Yes

Astoundingly great sound definition in a little box

I have since bought a second unit as a gift., Size and portability are terrific, but what surprised me was the bass response., , Found the bass sounded best when placed in a corner., , Battery life is more than have been able to exhaust in normal use., , Although not competition for powered speaker units with subwoofers. for great listening quality & definition at reasonable volumes I found it to be simply outstanding.

Verified purchase: Yes

Bose Sound Revolve Plus

#1-It speaks to you and alert to charge condition of battery - how much battery you have left - very helpful #2- It tells you who your connected to on Bluetooth - when selecting spk comes up Bose not unidentifing number -very helpful - # and sound is great from every direction - with it's handle and a Hook I can hang it in a tree or on rain gutter - then covers more sound area. Very Happy 5 Stars

Verified purchase: Yes

Great stereo sound with the added second unit

This is my second Bose Soundlink Revolve +. It was purchased to provide a stereo component to the initial Soundlink. I was pleased with the sound from the first unit, but having the ability to link a second unit provides a really great listening experience., The Soundlink is well built, attractive, easy to carry, and does have a great sound. It is expensive, but worth the cost.

Verified purchase: Yes