You May Also Like
Slide {current_page} of {total_pages} - You May Also Like
About Atari 5200
Showing slide {CURRENT_SLIDE} of {TOTAL_SLIDES}
A different joystick for a more realistic feel.

As opposed to the handheld "box and stick" controller of the 2600, the 5200 analog controller has many more buttons and functions.

Choose from different 5200 models for different features.

First released in 1982, the Atari 5200 came in various models released over several years; for example, the second-generation eliminates extra cords.

Embrace your inner video-game nerd.

The 5200 was first released to bring arcade games such as Galaxian to life; now you can relive playing the arcade game in your living room.

Get more into the action.

The analog joysticks that come complete with the Atari 5200 also double as paddles, allowing you to play more active games.
eBay has provided more information about this product above and is not affiliated with or endorsed by Atari.
Price Trends
Atari 5200 - Price Used
Used Price*
from $73 to $132
*The average sold price is calculated based on "Buy It Now" items sold within the 90 day period described above (excluding shipping and handling). Each interval represents a 15 day period. There is no guarantee that items will always be listed at a price within the provided range.
Compare Similar Models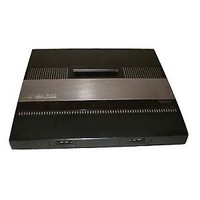 Atari 5200
Showing slide {CURRENT_SLIDE} of {TOTAL_SLIDES}
Atari 7800

Atari Jaguar

Screen Resolution

Up to 576 rows of pixels

Atari 2600