About Amazon Kindle (7th Generation)
Showing slide {CURRENT_SLIDE} of {TOTAL_SLIDES}
Fast and responsive.

The fast quad-core processor is four high-performance 1.3 GHz cores for quick app launches, smooth games and videos, and great overall performance. The Fire 7 also offers dual-band Wi-Fi, for more networks and better performance.

No more worrying about storage space.

Expand your tablet's storage by up to 256 GB using a microSD card to keep your photos, movies, and compatible apps and games with you.

Crisp and vivid 7 inch IPS display.

Fire 7 features a 1024 by 600 IPS display with 171 ppi for a great viewing experience from all angles. This includes an improved display that provides higher contrast and sharper text.

Power when you need it.

With up to 8 hours of mixed-use battery life, Fire tablets give you the flexibility to go wherever the day takes you.
eBay has provided more information about this product above and is not affiliated with or endorsed by Amazon.
Price Trends
Amazon Kindle (7th Generation) - Price New and Used
New Price*
from $62 to $138
Used Price*
from $50 to $61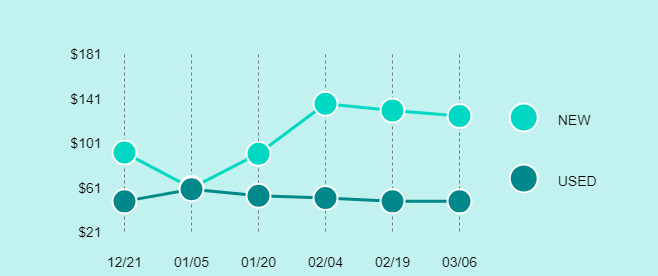 *The average sold price is calculated based on "Buy It Now" items sold within the 90 day period described above (excluding shipping and handling). Each interval represents a 15 day period. There is no guarantee that items will always be listed at a price within the provided range.
Compare Similar Models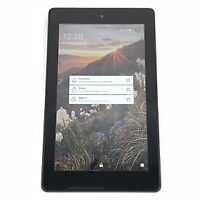 Amazon Kindle Fire 7 (7th Generation, 2017)
Operating System
Fire OS 5.6.1
Display resolution
1024x600
Internal Storage
8 GB, 16 GB
Processor
ARM Cortex-A7 (quad-core, 1.3 GHz)
Battery Life
Up to 8 hours
Dimensions (inches)
7.56 × 4.53 × 0.38 in
Showing slide {CURRENT_SLIDE} of {TOTAL_SLIDES}
Top 5 High ratings
Top 4 Low ratings
Love the Second Generation

I had a first generation Paperwhite since it was released and really liked it. I really needed a second one for the office. Was considering the Voyage, but couldn't justify the price. I really don't want to press buttons to move the page and prefer to control my own brightness. So I upgraded to the 7th generation. It seems to stay charged longer and have a nicer interface. The ink may be a little darker. There is not a huge difference, but I got a good price and am quite satisfied., , IMPORTANT: Spend the few extra dollars and get the 3G+ Wi-Fi. You will want to sync with other Kindles and Apps. This allow you to read on your mobile phone, and pick up at the same place when you reach for your Kindle. The 3G automatically syncs from virtually anywhere. The Wi-Fi only version, requires you to be continually connected to Wi-Fi to sync. It is messy.

Verified purchase: Yes

Best for reading

The Amazon Paperwhite is not a tablet with a bunch of flashy features, but if you just want to read books or documents, it is perfect., I actually don't use it much for Kindle books, but to read PDFs and other documents. Using the program Calibre I can convert any text file into a kindle file and read it at my convenience., The best part is that the screen doesn't irritate my eyes like an LCD screen (which I already spend way to much time staring at). Also, with the Paperwhite you can read it in any kind of lighting - I was walking along and reading and passed through bright light, shade, and darkness and could read the whole time without problem., Also, it is very lightweight and so I can hold it and turn pages with just one hand., The only thing I don't like is that with the newer Paperwhite I cannot add fonts to be able to read in other languages or more attractive fonts., Battery life is awesome - I've never got it down below half charged, even when I went over a week without charging it.

Verified purchase: Yes

Exactly what I needed

I've wanted a kindle for a long time, but never bought one because I had the kindle app on both my tablet and my phone so I didn't think having the eReader would make much of a difference. Oh, but how wrong I was! The app is good in a pinch, but it drains my battery, the backlight strains my eyes, and downloading books takes up more space than I really want to devote to it. So in general, I really don't use the apps at all. My whole point in getting the kindle app was to read more books. Since the app experience was so unenjoyable, I ended up reading less often than I'd hoped. So long story short, I decided to just try the old school kindle touch because it was cheap, simple, and a lot of ppl really liked it. I've only had it for a day now and I can already tell you that it's a major improvement over using the app. I love that it's not back-lit, so there's no strain on my eyes, the battery lasts for weeks so I don't have to worry about traveling with yet another charger or killing my phone, and it can hold as many books as I need/want. Since I already have an active kindle account it was super easy to setup and have my library handy at all times. All in all, I highly suggest, especially if you hate the app but love the concept of not having to lug bound books around.

Verified purchase: Yes

Great for kids!

I specifically bought this Kindle because I was looking for an e-reader that only does e-reading. We were going on a long trip and my son (age 11) is a speedy strong reader. I knew that we wouldn't be able to bring enough books to keep him busy for our entire trip. We have an iPad, but I knew if given the option he'd choose to play games rather than read on the iPad. Problem solved! He's also an early riser and this gave him the option of quietly reading while the rest of us slept since we were all sharing a small space and page turning is louder than you think when you're trying to sleep! I've also enjoyed reading my own books on it (when I can get it away from him!) :)

Verified purchase: Yes

iPad lover that can't get rid of a kindle paperwhite

I converted to everything apple about 5 years ago giving up the frustration of Microsoft, pc, and diy computer builds. I really do not care about the "limitations" that Apple places on their products, the things work and they last for years compared to the pc's that are pumped out by the thousands. Ok, off the soap box of why I like Apple, just my opinion and we all have one, it's what makes us different. Amazon and the kindle paperwhite, it is just a great ebook! My nose is continually in books, working on finishing a degree., , Pros:, The thing has an amazing battery life, you can see it in direct sunlight, it is light, and is the size of a paperback book! Amazon owns this market and have done a great job at refining the paperwhite every year. I can easily recommend the first gen paperwhite as well. By far the best ebook reader that you can see., , Cons:, It is not great at anything other than reading. The highlight feature is nice but limited since it is black and white. I love the different highlight colors the kindle app allows on the iOS app. The browser ability that Amazon has put on the kindle is extremely slow and clunky. The kindle paperwhite can not handle the Internet for browsing. Don't frustrate yourself by trying to do so, just get on your Mac or iPad and research on the internet that way., , Again, I will probably always have an iPad and a paperwhite, until apple decides to integrate e ink someway into an iPad. So if you are looking for a great way to save on books and still want "a close a possible to a book feel" , this is it.

Verified purchase: Yes
Tell us what you think

- opens in new window or tab