About Acer Iconia One 10
Showing slide {CURRENT_SLIDE} of {TOTAL_SLIDES}
Take full advantage of DTS.

The Acer Iconia One's DTS functionality creates a 3D sound space from any pair of headphones so you get the effect of full surround sound.

Enjoy the big screen portable experience.

With a full 10.1-inch diagonal screen enjoy movies and games on the Acer Iconia One without squinting.

Let the magnets do the work.

With five magnets per speaker, the dual speaker system provides better response and sonic than single magnet speakers.

Share your vision with friends.

Small screens are hard to share, but the Acer Iconia One's big screen IPS display gives wide viewing angles that make it easy for two or more people to view the screen.
eBay has provided more information about this product above and is not affiliated with or endorsed by Acer.
Compare Similar Models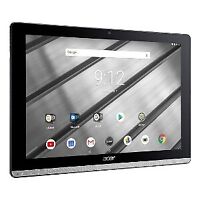 Acer Iconia One -10-inch
Screen Resolution
1280 x 800 pixels
Camera Resolution
5MP rear, 2MP front
Operating System
Android 6.0 Marshmallow
Flash memory
microSDXC, microSD- up to 128GB
Showing slide {CURRENT_SLIDE} of {TOTAL_SLIDES}
Acer Iconia One - 7-inch

Screen Resolution

800 x 1280 pixels

Camera Resolution

5MP rear, 0.3MP front

Operating System

Android 4.2.2 Jelly Bean

Flash memory

microSD - up to 32GB

Acer Iconia One - 8-inch

Screen Resolution

800 x 1280 pixels

Camera Resolution

5MP rear, 0.3MP front

Operating System

Android 5.0 Lollipop

Flash memory

microSD - up to 32GB

Acer Iconia Tab

Screen Resolution

1920 x 1200 pixels

Camera Resolution

5MP rear, 2MP front

Storage

16GB / 32GB / 64GB

Operating System

Android 5.0 Lollipop

Flash memory

microSD - up to 256GB
Good Product!

Have tried a few inexpensive tablets and this one's the best! Does not get hot as the Insignia did and has a long battery life.

Verified purchase: Yes

A handy tablet

I also have a Samsung tablet, same size but with only 16 GB of memory which has reached its capacity with too many active apps. The 32 GB in the Acer makes it easier to send and receive Email. The Samsung touch screen is much more sensitive so your project disappears by the slightest movement or an accidental finger touch. The screen senseativity of the Acer is much slower and sometimes you have to tap the screen 2 or 3 times to get it to react. However, both are so handy to use. If you have your eye on the Acer, I recommend it.

Verified purchase: Yes

Quality at a good price

I bought it for my wife as a replacement for a 3 year old tablet with half the memory. She uses it every day. My office also has one for the punch in/out for the time clock.

Verified purchase: Yes

nice tablet

i bought the tablet when BestBuy is having a sale, $75., very good looking, light weight, long battery life, fast response, and great crisp screen,, definitely a great buy

Verified purchase: Yes

Acer B3-A10 Android (Lollipop 5.1) Tablet

This is an excellent tablet except that it has one serious flaw that the non-technical user should be aware of before buying. Android 5.1 appears to be using the new internet protocol IP6. For some reason all of my Android apps were dropping their network connection to my Comcast router. I had to constantly turn WiFi on and then off. My Comcast router was installed just 12 months ago. My older A200 tablet worked flawlessly so I knew the problem was in the tablet. Since I wanted the tablet for travel, incompatibility with a router is a major show stopper. There are posts on the web that describe how to disable IP6, but you have to "root" your device and create a shell script. I can do it, but it would be impossible for my daughter to do it. Note: I could not get the Acer or Google ADB driver to work. I had to use one from June Technology. After disabling IP6, it works great. A non-technical user may want to call Acer before buying it to see if a patch is available.

Verified purchase: Yes
Tell us what you think

- opens in new window or tab