About ASUS MeMO Pad 7
Showing slide {CURRENT_SLIDE} of {TOTAL_SLIDES}
Enjoy a tablet you can take on the go.

At just 10.5 oz., the 7-inch ASUS MeMo Pad 7 is a great choice for a portable tablet. The screen is bigger than a phone, but the package is light enough to carry easily.

Comfort is all in the hand.

With a soft back and rounded corners, the MeMo Pad 7 is easy to hold onto without feeling uncomfortable in the hand.

Storage is your friend.

The base model MeMO Pad offers 8 GB of onboard storage for games, apps and downloaded media; you can also get an upgraded version with 16 GB.

Add additional space if you need it.

Anyone who downloads movies and music can take advantage of the micro-SD slot that supports up to 64 GB of additional storage.
eBay has provided more information about this product above and is not affiliated with or endorsed by ASUS.
Compare Similar Models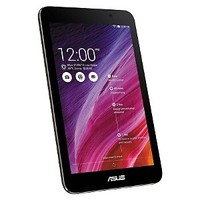 Asus Memo Pad 7
Screen Resolution
1200x800 pixels
Camera Resolution
5 MP Rear / 2 MP Front
Operating System
Android 4.4
Showing slide {CURRENT_SLIDE} of {TOTAL_SLIDES}
Top 5 High ratings
Top 1 Low rating
ASUS are my favorite for tablets

if you ae looking for a mid grade affordable tablet that performs well, this is one of them. It has a lightly modified android stock UI 12.x gb of usable space and 1gb of app space,. by todays standards it isn't very much , however for a tablet it tends to be just enough for the average user. you can slap many a game onto it an use the sd slot for pictures and music . this model can't be rooted as of Feb. 8th of 2018 but the previous model the ME173 can. I have one of each. This model has an Intel 64-bit atom processor in it for a little more oomph vs my ME173 at the cost of more power usage. I use the 173 for my car's music (although it doesn't seem to use actual stereo through the jack, only mono half-channel-waiting to test Bluetooth music to see if that fixes it?). I cannot speak to how this model fares with Bluetooth and 3.5mm jack as my kid only uses it for surfing and gaming.

Verified purchase: Yes

I needed a smaller Android device for travel.

The Asus MeMo Pad 7 ME375CL (Intel) is much faster than my Asus TF300T (Tegra 3) 10" tablet, and unlike the TF300T, it is fully compatible with ALL Google Play Store apps. I use it as a media player and navigation device for my eBike. The photo capability provides excellent daylight photos with lots of options in the native camera app. The value is incredible for an open box purchase of $53.00 compared to my 10" tablet, plus I am moving my GSM phone account to this unlocked device with a SIM kit from my network provider. It does everything I need it to do well and makes me wish that Asus duplicated the same specs with a higher 1080p screen resolution and Intel quad core processor) in an "affordable" 10" pad. I've had great luck with open box and factory refurbished units and never pay full retail price. It was a slam dunk deal. As a bang for buck technology consumer, there wasn't a better deal available!

Verified purchase: Yes

Good little tablet

This is my 3rd Asus, I bought one for a relative, one for me and one for a friend. They are lightweight, responsive, good battery life. Sound quality is very good, I had purchased a much bigger and supposedly nicer tablet awhile back by another brand and you could barely hear anything on it, this one has a nice loud speaker. One thing that initially caused me a few problems, I kept running into "unfortunately google play has stopped working" all the time. This happened on mine and I just thought it was a glitch, but when I purchased the others and they both did it I realized it had to be something more. I tried all suggestions on the internet (clear cache, force stop, etc). It kept saying the updates were "up to date" so I didn't think it was that (and its set by default not to auto update). So I started clicking "check for updates" initially all 3 reaffirmed it was up to date, but then all 3 started updating...ALOT. After every update it would say it was "up to date" but I kept clicking on the "check updates" till it wouldn't download anymore. Turned out each tablet took 7 or more updates, after updating all "google play" issues went away on all 3. I really like these little tablets and recommend them to anyone, especially anyone on a budget.

Verified purchase: Yes

Excellent device!

I had a Nexus 2013. I was checking out if Google will make another line of Nexus 7's--they did but it's going to be this Spring 2016, from Huawei. I bet it's going to be a super awesome device. Anyway, I'm being frugal and found out about ME572c. They say it's technically a Nexus 7 2014 and I believe that. I do like the Zen UI though I miss and liked the stock UI(I think it's stock) of the Nexus better, which I sold in order to buy this. I didn't regret that business at all. All worth it. You'll notice that with its version of intel atom, games are running quite faster. Sound is also good. It's physical appearance is awesome. Same screen as Nexus. If you are coming from nexus or devices that have power button on top of volume rocker, you'd have to get used to knowing that the power button in this device is below the volume rocker. I don't really use the camera, but I think that for Skyping, it's ok. Overall, it's just the faster version of the Nexus 2013. Kudos to Asus for being the manufacturer of these two awesome devices., , By the way, if you're concerned: since ME572c isn't a nexus, or under google anymore, you'd have to be stuck with lollipop. I don't know if this device is going to have marshmallow. But for now, even with just the Zen version of lollipop, it's doing really awesome.

Verified purchase: Yes

LOVE this little ASUS!

I was looking for something very reasonably priced to replace my Nexus 7 tablet which Google no longer supports! After they did the upgrade to a different operating system the Nexus 7 no longer worked good! This little ASUS was a demo model with no charger and I already had a charger that would work so it was a wonderful value and I really am enjoying it...it works like my Nexus 7 did when I first purchased it! The battery life is not quite as long as the Nexus...but it is long enough...I just make sure I plug it in every day (or night)! The display screen (color) is great and I love the front and rear facing camera...great quality and easy to use! I can not think of any real negative...it is almost identical to my Nexus 7 which I paid $250.00 in 2011 and the ASUS only cost a fraction!

Verified purchase: Yes
Tell us what you think

- opens in new window or tab