GOLF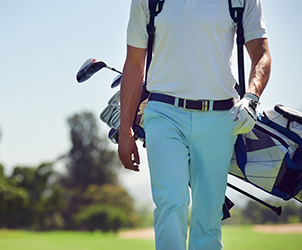 Everything You Need for Hitting the Green
With titanium and carbon fiber now materials of choice, golf is not known as an inexpensive hobby. Fortunately, with the great selection of new and used equipment at eBay's golf store, you can stock up without breaking the bank. Whether you just need some range balls for practice, the latest high tech driver, a new pair of golf gloves, or a used golf bag, eBay has golf gear for everyone.
Shop eBay's Golf Accessories
eBay has everything you need, from golf bags to golf clothing that will let you look your best out on the links. We even have used golf clubs, golf balls and golf shoes. Find everything you need, while shopping from the convenience of your favorite easy chair.
Find the Perfect Fit
Speaking of golf clothing, you don't need to worry about finding your size, brand or favorite cut. eBay's online golf store has women's and men's attire for every budget and style. We also offer sun-safe visors and hats so you can spend all day out on the green without worrying about getting too much sun.
Find the Right Club
On eBay, you will find an enormous selection of new and used golf clubs Consider price point, make and material to select the right clubs (even if you're left-handed)! Shop classic Titleist clubs and Scotty Cameron putters, or new gear from Nike Golf. Whether it's a sand-wedge, putter or 5 iron, eBay is sure to have what you need. Looking for a specific brand like Mizuno, Callaway or Odyssey Putters? We have those, too.
All the Little Extras
Of course you need the right clubs and the perfect clothes, but what about those extra accessories so easily overlooked? Stock up on ball markers, rangefinders and scopes, training aids and plenty of other gear to sharpen up your game at eBay's golf shop.