Zelda II: The Adventure of Link (Nintendo Entertainment System, 1988)
---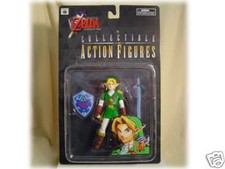 $229.99Free shipping
Est. Jul. 28 - Aug. 4 deliveryFrom vermont
About this product
Product Information
Product Information

Mixing real-time battles with a combination of side-scrolling action and RPG elements, Zelda II: The Adventure of Link puts you in the role of Link, a brave young lad with a sword in one hand and a shield in the other. The world you'll explore is home to a variety of landscapes, including plains, caves, rivers, mountains, deserts, forests, swamps and graveyards. The world is also home to many helpful citizens who will help by offering clues and secret messages.

In The Legend of Zelda, the first game in this series, Link overthrew the evil Ganondorf, took back the Triforce and rescued Princess Zelda. Many seasons have passed since these events, and trouble is brewing once again. The formerly peaceful kingdom of Hyrule is in a state of utter turmoil as Ganondorf's influence is still in place, causing chaos and disorder. Ganondorf himself may return.

One day, around the time of Link's 16th birthday, a strange mark resembling the crest of the kingdom of Hyrule appears on Link's hand. He reports this anomaly to Impa, Princess Zelda's nursemaid. Upon seeing the birthmark, Impa takes Link to Zelda's resting place where she lies comatose as the result of a magic spell cast by an evil magician.

To revive the princess and restore order to the kingdom, Link must unite the Triforce, of which there are three kinds: Power, Wisdom and Courage. This will involve a treacherous journey to defeat the guardians of six palaces and return six precious crystals to their origins in six stone statues.

During your journey you'll gain experience by fighting devils, creepy crawlies, alligator soldiers, ghosts and other members of Ganondorf's informal society of underlings. When you confront an enemy, the screen switches from an overhead to a side view. Basically, fighting consists of using your shield to ward off attacks and your sword to inflict damage.

Eight types of magic can be learned to assist you: Shield, Life, Jump, Fairy, Fire, Reflect, Spell and Thunder. These will enable you to do things such as fly, cast eerie spells, throw fireballs, increase your jumping power, and recover life points. Also, you can find magic jars, which recover your magic points; dolls, which give you extra lives; rafts, which enable you to cross the sea; and other helpful items. As in the original game, progress can be saved via battery backup.
Product Identifiers
Publisher

Nintendo

Game

Zelda II: The Adventure of Link

MPN

045496630331

UPC

045496630331
Key Features
Platform

Nintendo Entertainment System

ESRB Rating

E - Everyone

Genre

RPG

Location

USA
Tech Details
Control Elements

Gamepad/Joystick

Number of Players

1

Release Year

1988

Game Series

The Legend of Zelda Series