You Don't Want to Know by Lisa Jackson (2012, Hardcover)
---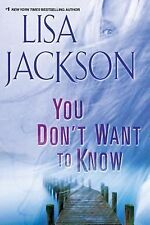 $9.03Free shipping
Est. Feb. 10 - Feb. 18 deliveryFrom Chalmette, LA
About this product
Synopsis
Bestselling author Jackson deftly takes readers to the edge of sanity--and back--in a gripping novel where a mother's worst fear is only the beginning of a terrifying nightmare, and the truth is more dangerous than she can imagine.

Two years ago, Ava's two-year-old son Noah went missing, and his body has never been found. Ava has spent most of the past two years in and out of Seattle mental institutions, shattered by grief and unable to recall the details of Noah's disappearance. Now she's back at the family estate she once intended to restore to its former grandeur. But as Ava's mind comes back into focus, her suspicions grow. Ava can't shake the feeling that her family and her psychologist know more than they're saying. Unwilling to trust those around her, Ava secretly visits a hypnotist to try and restore her memories. But the strange visions and night terrors keep getting worse. Ava is sure she's heard Noah crying in the nursery, and glimpsed him walking near the dock. Is she losing her mind, or is Noah still alive? Ava won't stop until she gets answers, but the price may be more than she ever thought to pay...


Product Identifiers
ISBN-10
0758258577
ISBN-13
9780758258571


Key Details
Author
Lisa Jackson
Number Of Pages
416 pages
Format
Hardcover
Publication Date
2012-08-07
Language
English
Publisher
Kensington Publishing Corporation


Additional Details
Copyright Date
2012


Dimensions
Weight
23.7 Oz
Height
1.5 In.
Width
6.3 In.
Length
9.3 In.


Target Audience
Group
Trade


Classification Method
LC Classification Number
PS3560.A223
Dewey Decimal
FIC
Dewey Edition
23


Table Of Content
Table Of Content
Contributors I. Theory-Driven Guidelines for Cognitive Rehabilitation Strategies in Older Adults 1. The Interplay of Growth and Decline: Theoretical and Empirical Aspects of Plasticity of Intellectual and Memory Performance in Normal Old Age, Paul Verhaeghen 2. Theoretical and Methodological Issues in Memory Training, Robert D. Hill and Lars Backman 3. Cognitive Skill Acquisition, Maintenance, and Transfer in the Elderly, Michael K. Gardner et al. II. Cognitive Rehabilitation Strategies in Normal Aging 4. Multifactorial Memory Training in Normal Aging: In Search of Memory Improvement beyond the Ordinary, Anna Stigsdotter Neely 5. Innovative Approaches to Memory Training for Older Adults, Robin L. West, Duana C. Welch, and Monica S. Yassuda 6. Promoting a Sense of Control over Memory Aging, Margie E. Lachman III. The Influence of Health and Health Behaviors on the Rehabilitation of Cognitive Processes in Late Life 7. The Role of Physical Exercise as a Rehabilitative Aid for Cognitive Loss in Healthy and Chronically Ill Older Adults, Charles F. Emery 8. Smoking and Cognitive Function: Issues in Cognitive Rehabilitation, Robert D. Hill and Karen Rothballer Seelert 9. Executive Function and Cognitive Rehabilitation, Jeffrey W. Elias and Julia E. Treland 10. The Influence of Depression on Cognitive Rehabilitation in Older Adults, Nancy A. Pachana, Bernice A. Marcopulos, and Kellie A. Takagi IV. Rehabilitation Strategies for Cognitive Loss in Age-Related Disease 11. Issues in the Clinical Evaluation of Suspected Dementia: Implications for Intervention, Thomas Schenkenberg and Patrick J. Miller 12. Retrieval Strategies as a Rehabilitation Aid for Cognitive Loss in Pathological Aging, Cameron J. Camp, Michael J. Bird, and Katie E. Cherry 13. Psychosocial Rehabilitation for Problems Arising from Cognitive Deficits in Dementia, Michael Bird 14. Strategies for the Rehabilitation of Cognitive Loss in Late Life Due to Stroke, Clive Skilbeck Index


Most relevant reviews
by

Great reading and great book.

I think I have read almost of of her books and this book did not dissappoint me. Kept me wanting to read more and more until I finished the book. Great reading.

by

Excellent

"You Don't Want To Know" was an awesome read! Well worth the money. I read this book in about 2 sittings. I have not read the other book purchased with this one because I found out it belongs in a set.

by

Fantastic, chilling, full of surprises. Great Book.

WOW - This book has more twists than any book I have ever read. Lisa Jackson always has great characters. I could not put this book down. I have read all of her books and have loved them all. Very interesting, chilling and full of surprises.