X Squad (Sony PlayStation 2, 2000)
---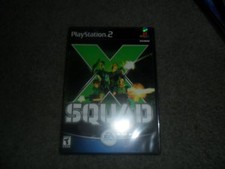 $13.99Free shipping
Est. Aug. 1 - Aug. 5 deliveryFrom Essex, Maryland
Top Selling in Video Games
Great Prices on Video Games
About this product
Product Information
Product Information

In the year 2037, a destructive plague has ravaged the streets of a large metropolitan city. As the body count rises, a radical bio-terrorist organization has taken a team of scientists hostage. The scientists were to exterminate the plague and save the city from further destruction. This is where you come in; assuming the role of Ash, you'll front an elite Special Forces squad in hopes of eliminating the terrorists.

Featuring 3D gameplay, X Squad will have you commanding a four-person squad through a variety of environments including subway systems, sewers and city streets. Before starting the mission, you'll assemble your team from a group of male and female soldiers, each having unique features and special abilities. Using artificial intelligence, you will assign orders and objectives to each squad member. They'll even help each other out along the way thanks to a buddy system. Watch out -- your squad members have their own convictions and will speak freely on your actions.

While some characters specialize in demolitions and explosives, others excel at sniping and gunfire. You must assemble your team in accordance with the given mission objective. Regardless, the bio-terrorists have infiltrated the city, preparing for an all-out war. These guys come from the sewers and the rooftops, setting up ambushes designed to squash the efforts of Ash's team. Sometimes, the terrorists will omit planning and engage in dangerous crossfire. Fortunately, you're given a massive arsenal of weaponry including basic handguns, rocket launchers, automatic rifles and grenades.

X Squad utilizes the PlayStation 2's graphic prowess for rain, fog, smoke and mist effects. Further digging into the system's capabilities, the game uses over 2,500 motion-captured animations throughout; characters also possess unique facial designs and styles, each featuring over 5,000 polygons. Additionally, there are 800 scenes of spoken dialog.
Product Identifiers
Publisher

EA Games

Game

X Squad

MPN

014633142372

UPC

014633142372,5030930024635
Key Features
Platform

Sony PlayStation 2

ESRB Rating

T - Teen

Genre

Shooter

Location

USA
Tech Details
ESRB Descriptor

Animated Violence

Control Elements

Gamepad/Joystick

Number of Players

1

Release Year

2000

Game Special Features

Lead a four-man team safely through a hostile military complex while taking out terrorists


Use handguns, assault rifles, sniper rifles, flamethrowers, grenade launchers, and more


Features nine stages of shooting action


Most relevant reviews
by

x-squad playstaion, A+

My boys had a playstation that someone gave them. It only had a few games so i looked on ebay. My 7 yr old twins loved it. And the sale was qucik and easy. Thanks for easy buying!!!

by

good game

this game is very good and cheap, this game gives you to change players at any time and make them do certain things. Overall this game is cool to have if you don't mind playing easy to beat games.