X-Men: Evolution - Xposing the Truth (DVD, 2003)
---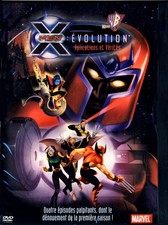 $5.94+ $1.99 Shipping
Est. Feb. 18 - Feb. 26 deliveryFrom Kitchener, Ontario
$4.89 Buy It Now
Free shipping
About this product
This animated series goes to the roots of the classic comic book X-MEN, capturing the mutants in their youth. Much like the WB series SMALLVILLE, the teens who would become the heroes and villains of a comic book world are all attending the same high school, creating a mixed student body with otherworldly conflicts that go beyond the typical high school hijinx. This collection includes episodes 10-13 of the series. Included is the wild two-part episode "The Cauldron" pitting mutants against each other in a bout for supremacy. Additional episodes are "Shadowed Past" and "Grim Reminder."


Product Highlights
Video Trailer:
Product Details
Number of Discs:
1
Rating:
Not Rated
Film Country:
USA
UPC:
085392779222
Additional Details
Genre:
Action/Adventure
Format:
DVD
Most relevant reviews
by

Teenaged x-men what A consept!

See the adventure! AAAAAAAAAAAAAAAAAAAAAAAAAAAAAAAAAAAAAAAAAAAAAAAAAAAAAAAAAAAAAAAAAAAAAAAAAAAAAAAA+

by

X-Men Cartoon

I grew up watching X-Men, and my son saw the movie and loves it. We purchased one of the Evolution movies at wal-mart and he has loved them ever since. They are a great cartoon that shows kids how to work together and to know that it's ok to be a little bit different. It shows how everyone is unique in their own way. Great cartoon to watch for both you and your child.