Wildland Recreation Vol. 1 : Ecology and Management by David N. Cole and William E. Hammitt (1998, Hardcover, Revised)
---

$13.95+ $3.99 Shipping
Est. Jul. 30 - Aug. 6 deliveryFrom Nashville, TN
---
More options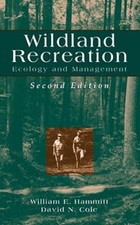 $3.97 Buy It Now
Free shipping
$3.97 Buy It Now
Last oneFree shipping
$3.97 Buy It Now
Free shipping
Great Prices on Textbooks, Education
About this product
Synopsis
Synopsis

In the late-20th century there has been an increase in the demand for outdoor recreational facilities, combined with little or no growth in the resources available. Park managers are faced with, amongst other problems, stagnant financial resources, floods of tourists and a requirement to maintain the land as close to natural conditions as possible. This volume presents the information a recreational resources manager will need in order to protect the environment, while at the same time making it accessible to the public. It contains chapters on trends for coping with the increase in demand for outdoor recreational facilities, and international perspectives and ecotourism abroad. There is also coverage of the limits of acceptable change in the environment, long-term monitoring data and techniques, and impact on wildlife.,The tremendous increase in demand for outdoor recreational facilities in the last thirty years has met with little or no growth in the resources available. Parks managers are faced with stagnant financial resources, stifling development restrictions, and an increasingly heavy flood of campers, skiers and snowboarders, rock climbers, and mountain cyclists. This book presents the crucial information professional recreational resources managers need to know to simultaneously protect the environment and make it accessible for recreational use.,Wildland Recreation,Wildland Recreation An authoritative guide to managing the ecological impacts ofrecreational activities on natural resources. The challenges facing todays recreation resource managers are bothcomplex and daunting. Accommodating rapidly growing numbers ofrecreational visitors without sacrificing the ecological integrityof wildlands is a major challenge. Determining and planning for thelimits of acceptable change and expanding services with little orno growth in natural resources or funding are major issues. Wildland Recreation, Second Edition provides solutions to these andother crucial recreational resource problems. Based upon itsauthors extensive firsthand experience as well as their exhaustivereview of the world literature on the subject, it providesup-to-date, detailed coverage of todays wildland recreationmanagement issues, including: Ecological impacts of recreational activities on wildlandresources Spatial and temporal patterns of recreational impacts Environmental durability, visitor use, and other key factors The limits of acceptable change, long-term monitoring, andimpacts on wildlife Social and economic factors associated with managing impacts Alternative approaches to wildland recreation resource management Recent trends in satisfying increased demand for outdoorrecreational opportunities International perspectives on recreational wildland managementand ecotourism Like its best-selling predecessor, Wildland Recreation, SecondEdition is a valuable working resource for wildland recreationmanagement professionals and a comprehensive course text forstudents of forest and natural resources recreation, parkmanagement, environmental conservation, and related disciplines.
Product Identifiers
ISBN-10

0471194611

ISBN-13

9780471194613
Key Details
Author

David N. Cole,William E. Hammitt

Number Of Pages

376 pages

Edition Description

Revised

Format

Hardcover

Publication Date

1998-09-14

Language

English

Publisher

Wiley & Sons, Incorporated, John
Additional Details
Edition Number

2

Copyright Date

1998

Illustrated

Yes
Dimensions
Weight

23.4 Oz

Height

0.9 In.

Width

6.4 In.

Length

9.2 In.
Target Audience
Group

Scholarly & Professional
Classification Method
LCCN

98-014868

LC Classification Number

GV191.4.H35 1998

Dewey Decimal

333.78/0973

Dewey Edition

21
Table Of Content
Table Of Content

Wildland Recreation and Resource Impacts.IMPACTS TO RESOURCE COMPONENTS.Soil.Vegetation.Wildlife.Water.IMPACT PATTERNS AND TRENDS.Impact Patterns.Trends in Wildland Recreation Use and Impacts.FACTORS AFFECTING IMPACTS.Environmental Durability.Visitor Use.MANAGEMENT ALTERNATIVES.Strategies and Concepts of Management.Monitoring Recreational Impacts.Visitor Management.Site Management.International Impact Research and Management.CONCLUSION.A Lasting Impact.Index.