Wheel of Time: Lord of Chaos 6 by Robert Jordan (2005, CD, Unabridged)
---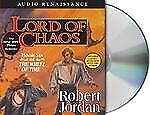 $45.00+ $4.72 Shipping
Est. Feb. 19 - Feb. 26 deliveryFrom Corona, California
About this product
Synopsis
In this sequel to the New York Times bestseller The Fires of Heaven, listeners plunge again into Jordan's extraordinarily rich, totally unforgettable world. Nineveh al'Meara and Elayne, the daughter-heir of Andor, begin a desperate search for the fabled ter'angreal that may enable them to restore normal weather conditions. Unabridged. 35 CDs.

In this sequel to the phenomenal New York Times bestseller The Fires of Heaven, we plunge again into Robert Jordan's extraordinarily rich, totally unforgettable world: On the slopes of Shayol Ghul, the Myrddraal swords are forged, and the sky is not the sky of this world; In Salidar the White Tower in exile prepares an embassy to Caemlyn, where Rand Al'Thor, the Dragon Reborn, holds the throne--and where an unexpected visitor may change the world.... In Emond's Field, Perrin Goldeneyes, Lord of the Two Rivers, feels the pull ofta'verentota'verenand prepares to march.... Morgase of Caemlyn finds a most unexpected, and quite unwelcome, ally....And south lies Illian, where Sammael holds sway....

The sixth audio volume of the bestselling Wheel of Time series is now available on unabridged cdIn this sequel to the phenomenal New York Times bestseller The Fires of Heaven, we plunge again into Robert Jordan's extraordinarily rich, totally unforgettable world. As the Wheel turns the winds of fate roil across the land. Rand al 'Thor struggles to unite the nations for the Last Battle when the Dark One will break free into the world to spring the snares laid by the immortal forsaken for unwary humankind. The White Tower in Tar Valon, under the Amyrlin Elaida, has decided that Rand must be controlled immediately. Drought and summer heat linger into winter and Nineveh al'Meara and Elayne, the daughter-heir of Andor, begin in a desperate search for the fabled ter'angreal that may enable them to restore normal weather conditions.


Product Identifiers
ISBN-10
1593976836
ISBN-13
9781593976835


Key Details
Author
Robert Jordan
Edition Description
Unabridged
Series
Wheel of Time
Format
CD
Publication Date
2005-08-01
Language
English
Publisher
Macmillan Audio


Additional Details
Series Volume Number
6
Number of Volumes
33 vols.
Illustrated
Yes


Dimensions
Weight
31 Oz
Height
4.1 In.
Width
5.3 In.
Length
5.9 In.


Target Audience
Group
Trade


Classification Method
Dewey Decimal
813.5/4
Dewey Edition
21


Contributors
Read by
Kate Reading, Michael Kramer


Reviews
"The solid performances by Kate Reading and Michael Kramer add a new dimension to the story, especially in the way these veteran narrators breathe life into the inner thoughts of the many major players."AudioFile on Crossroads of Twilight


Most relevant reviews
by

Great

It great read and a great book on cd. I love this series with Kate Reading and Michael Kramer do a awesome job with this series. I highly recommend this series.

by

Lord of Chaos

This series keeps getting better. The plot is a little slow in the middle, but overall an excellent book.

by

Lord of Chaos

This is book six in the series. It is now bringing all of the favorites back together. It really keeps you on edge wondering what will happen next. Great book!!