What Were Once Vices Are Now Habits by The Doobie Brothers (CD, Oct-1990, Warner Bros.)
---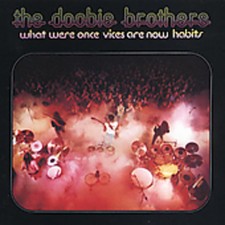 $10.93Free shipping
Est. Feb. 18 - Feb. 25 deliveryFrom Sheperdsville, Kentucky
About this product
Album Features
UPC:
075992728027
Artist:
The Doobie Brothers
Format:
CD
Release Year:
1990
Record Label:
Warner Bros.
Genre:
Rock & Pop
Track Listing
1. Song to See You Through
2. Spirit
3. Pursuit on 53rd St.
4. Black Water
5. Eyes of Silver
6. Road Angel
7. You Just Can't Stop It
8. Tell Me What You Want (And I'll Give You What You Need)
9. Down in the Track
10. Another Sunday Another Park
11. Daughters of the Sea
12. Flying Cloud
Details
Playing Time:
44 min.
Contributing Artists:
Arlo Guthrie, The Memphis Horns
Producer:
Ted Templeman
Distributor:
WEA (Distributor)
Recording Type:
Studio
Recording Mode:
Stereo
SPAR Code:
n/a
Album Notes
The Doobie Brothers: Tiran Porter (bass instrument); John Hartman , Patrick Simmons, Tom Johnston.Personnel: Patrick Simmons, Tom Johnston (vocals, guitar); Keith Knudsen (vocals, drums); Tiran Porter (vocals); Jeff Baxter (guitar, steel guitar, pedal steel guitar); Arlo Guthrie (autoharp, harmonica); Novi Novag, Novi (viola); Andrew Love (saxophone, horns); Wayne Jackson (trumpet, horns); Jack Hale (trombone); James Mitchell (horns); James Booker (piano); Bill Payne (keyboards); Milt Holland (marimba, pandeiro, tabla, percussion); John Hartman , Michael Hossack (drums); Eddie Guzman (congas, timbales, percussion); Ted Templeman (percussion).Recording information: Burbank Studios, Burbank, CA; Wally Heider Studio, San Francisco, CA; Warner Bros. Recording Studios, North Hollywood, CA; Warner Bros. Studios, North Hollywood, CA.Photographer: Dan Fong.WHAT WERE ONCE VICES ARE NOW HABITS, the follow-up to the Doobies' massive commercial breakthrough, THE CAPTAIN AND ME, boasts one of the great album titles in rock history. The album also features a strong bunch of songs in the same stylistic vein as its immediate predecessors. The big hit here, of course, is "Black Water," an infectious piece of jazzy folk rock with a killer a cappella gospel-chorus section. "Song to See You Through" is the Doobies' version of a '60s soul ballad, with the Memphis Horns adding a deep, Southern-fried feel."Eyes of Silver" lopes along on a guitar-driven "Listen to the Music" groove, while "Down in the Track" is a straight-ahead, mid-tempo blues rocker with a cameo appearance by New Orleans piano legend James Booker. Best of all is the lovely "Another Park, Another Sunday," whose folk-style guitars and harmonies give country-rock contemporaries like the Eagles a good run for their money. Though not as consistent and essential as THE CAPTAIN AND ME, WHAT WERE ONCE VICES still has plenty to offer, capturing the band at the crest of their early-'70s peak.