What Do You Want to Do Before You Die? by Buried Life Staff (2012, Paperback)
---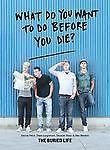 $3.97Free shipping
Est. Feb. 11 - Feb. 25 deliveryFrom Mishawaka, IN
About this product
Synopsis
An illustrated collection of answers to the age-old question, What do you want to do before you die? as posed by four twenty-something guys known as The Buried Life. In 2006, four regular guys-Ben, Dave, Duncan, and Jonnie-made a "bucket list" of 100 things they wanted to do before they died. They set off on their journey, and for every item they crossed off their list, they helped a stranger achieve one of their goals. Five years later, with an MTV show and 1.2 million loyal Facebook followers under their belt, they've turned their attention to crossing off their list item #19: Write a Bestselling Book. What Do You Want to Do Before You Die? is an illustrated collection of real people's dreams. Two hundred moving, imaginative, amusing, and thought-provoking goals ("I want to accept my body the way it is"; I want to longboard down an active volcano"; "I'd like a second chance") are brought to life through original illustrations. Peppered throughout are stories of the boys' own journey, sometimes poignant, often hilarious, and occasionally illegal, but never dull. Readers will find something to take away-touching stories, nuggets of wisdom-on every page. This is an inspirational book for a new generation: visual and sassy, lighthearted but substantive, encouraging without being preachy.

If you had one day to live what would you do? Would you plant a tree? Would you rob a bank? Would you tell someone how you really feel? What Do You Want to Do Before You Die? is an illustrated collection of your wildest dreams. Two hundred of the most moving, imaginative, amusing, and thought-provoking "Things To Do Before You Die" are brought to life through handmade art curated by Dave, Duncan, Jonnie and Ben--the founders of The Buried Life. Peppered throughout are lessons, secrets, and stories that come from five years of asking millions worldwide: What Do You Want to Do Before You Die? Reasons you'll like this book * Your life could change dramatically. (Ours did.) * You could do things you never dreamed of. (We have.) * You could feel the joy of being alive.

Two hundred moving, imaginative, and thought-provoking goals are brought to life through original illustrations to answer the age-old question, "What do you want to do before you die?" as posed by four twenty-something guys known as The Buried Life.


Product Identifiers
ISBN-10
1579654762
ISBN-13
9781579654764


Key Details
Author
Ben Nemtin, Buried Life Staff, Dave Lingwood, Duncan Penn
Number Of Pages
224 pages
Format
Paperback
Publication Date
2012-03-27
Language
English
Publisher
Artisan


Additional Details
Illustrated
Yes


Dimensions
Weight
23.1 Oz
Height
0.8 In.
Width
7.2 In.
Length
9.6 In.


Target Audience
Group
Trade


Most relevant reviews
by

Makes you think about your life.

This book is a hoot for everyone. It's fun and fast reading, but makes you think. What do you want to do before you die. This book is a must read for ybody. It's never to late, to start a list.
Great job, men. Do it again.