Weeknights with Giada : Quick and Simple Recipes to Revamp Dinner by Giada De Laurentiis (2012, Hardcover)
---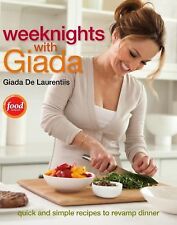 $11.99+ $4.75 Shipping
Est. Aug. 3 - Aug. 8 deliveryFrom Panama City, Florida
About this product
Synopsis
Synopsis

As her daughter Jade grows up and schedules get busier, Giada has developed fantastic go-to recipes to get a delicious meal on the table in a flash. Here is Giada at her most inventive--and at her most laid back. Flavour, freshness, and fun take centre-stage while cooking times, pots dirtied, and stress are kept to a minimum. All of the soups, sandwiches, pizzas, pastas, meat, and fish dishes come together quickly, most in half an hour or less. If you have eggs on hand but not much else, you can still pull together a great meal with the Breakfast for Dinner chapter. Leftovers are reinvented into healthy yet hearty main-course salads such as Roasted Salmon, Snap Pea, and Cucumber Salad and Chicken, Bibb, and Arugula Salad with Raspberry Vinaigrette. While Giada's recipes remain predominantly Italian, some California-global influences sneak in, as they do on her show, including Spicy Mint Beef and Thai Turkey Lettuce Wraps. Even desserts are quick to mix and bake, should a weeknight craving or a last-minute school bake sale strike.Where Giada at Home gave readers a peek into Giada's home life with shots of her and Jade making pasta, and Todd helping Giada at the stove Weeknights with Giada is an even more intimate look into her day-to-day family life. Chock-full of gorgeous colour photographs, Weeknights with Giada will be a new favourite for long-time fans and a new kind of handbook for home cooks everywhere.,Giada De Laurentiis is one of America's most-loved culinary stars, adored for her Food Network hit shows and her New York Times bestselling cookbooks alike, both of which feature her fresh, flavorful Italian recipes. For the first time, Giada tackles weeknight cooking, sharing her favorite tips and go-to dishes--all in her vibrant signature style--to get a delicious meal on the table in a flash. After a full day, Giada, like most parents, wants nothing more than to sit down for a home-cooked dinner with her husband, Todd, and their daughter, Jade. Weeknights with Giada rises to the challenge, delivering soups, sandwiches, pizzas, pastas, and meat and fish dishes that come together quickly as stand-alone main courses--most in half an hour or less: Rustic Vegetable and Polenta Soup, a hearty soul-warming one-pot dish, cooks in under twenty minutes; Lemony White Bean, Tuna, and Arugula Salad is a great meal that's quickly assembled from pantry and fridge essentials; Spicy Linguini with Clams and Mussels is a fifteen-minute-or-less spectacular pasta; and you can't beat Grilled Sirloin Steaks with Pepper and Caper Salsa, which are also ready in just fifteen minutes. From inventive breakfast-for-dinner dishes and meatless Monday vegetarian recipes--both weekly traditions in Giada's house--to picnic sandwiches and hearty salad recipes for reinventing leftovers, Weeknights with Giada reveals every secret in her repertoire. Even the desserts are quick to mix and bake, should a craving--or a last-minute school bake sale--strike. Here is Giada at her most inventive--and at her most laid-back. Flavor, freshness, and fun take center stage while cooking times, pots dirtied, and stress are kept to a minimum. With gorgeous color photographs and intimate home snapshots of Giada and her family, Weeknights with Giada is a welcome handbook of fantastic recipes and surefire Monday-to-Friday strategies for every home cook.,The bestselling author and beloved Food Network star tackles weeknight cooking with recipes that come together quickly in a fresh style. Readers will also get a glimpse into the author's home life with glamorous color photographs of food and de Laurentiis' style.
Product Identifiers
ISBN-10

030745102X

ISBN-13

9780307451026
Key Details
Author

Giada De Laurentiis

Number Of Pages

240 pages

Format

Hardcover

Publication Date

2012-03-27

Language

English

Publisher

Crown Publishing Group
Additional Details
Copyright Date

2012

Illustrated

Yes
Dimensions
Weight

33.5 Oz

Height

0.8 In.

Width

7.8 In.

Length

9.8 In.
Classification Method
LCCN

2011-018531

LC Classification Number

TX643.D43 2012

Dewey Decimal

641.5

Dewey Edition

23
Reviews
Reviews

"De Laurentiis delivers on her promise-the book is full of quick, easy dishes that follow her formula-simple and pleasing." --Publisher's Weekly
Most relevant reviews
by

Awesome recipe book!! It's perfect and a big gift to my kitchen...

A perfect tool in the kitchen!! This is a book of recipes that never should be left out of your kitchen. It's have a lot of italian recipes easy to cook but with the Giada De Laurentis signature, what means that's an excellent piece in your recipes book collections. :)

by

This book can help you get dinner on the table in less than 1 hour.

This cookbook is awesome! I've already made 2 dishes from it, & we loved them. I am making 1 of them again, tonight for a covered dish dinner. Would make a great wedding or Mother's Day gift!

by

Great Hardcover book, This is my 3rd Giada book

Easy and wonderful recipes, My husband is very happy that he can also join in the fun of cooking. It makes us closer and we enjoy our meals even more.