Webster's New World Pocket Dictionary by Webster's New World Dictionaries Editors (2000, Paperback, Revised)
---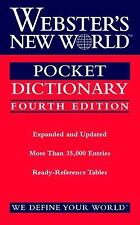 $1.50+ $3.99 Shipping
Est. Feb. 12 - Feb. 22 deliveryFrom Location Varies in US
About this product
Synopsis
Completely revised and enlarged based on the recent Fourth Edition of Webster's New World Pocket Dictionary, this perennial bestseller now includes more than 37,000 entries. Clear, concise definitions instantly provide reliable information about thousands of terms and meanings in every area of contemporary language. Updated reference supplements make this the most readable and useful pocket dictionary available today.


Product Identifiers
ISBN-10
0764561472
ISBN-13
9780764561474


Key Details
Author
Webster's New World Dictionaries Editors
Number Of Pages
384 pages
Edition Description
Revised
Format
Paperback
Publication Date
2000-06-19
Language
English
Publisher
Houghton Mifflin Harcourt Publishing Company


Additional Details
Edition Number
4
Copyright Date
2000


Dimensions
Weight
5.1 Oz
Height
0.6 In.
Width
3.5 In.
Length
5.6 In.


Target Audience
Group
Trade


Classification Method
LCCN
2001-268199
LC Classification Number
PE1628.W56373 2000
Dewey Edition
21


Contributors
Edited by
Jonathan L. Goldman


Table Of Content
Table Of Content
Pronunciation Key. Abbreviations Used. Webster's New World(TM) Pocket Dictionary A-Z. Rules for Spelling. Rules for Forming Plurals. Rules for Punctuation. Weights and Measures.


Most relevant reviews
by

Websters New World Pocket Dictionary

This is perfect. Sometimes I forget how to spell a word so I use this book. It's small and I keep it in my desk drawer. The last one I had for 20 years. Time for a new one and this one is the perfect size.