Water : The Fate of Our Most Precious Resource by Marq De Villiers and Marq de Villiers (2001, Paperback)
---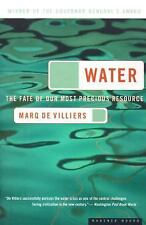 $4.81Free shipping
Est. Aug. 1 - Aug. 8 deliveryFrom 30127
About this product
Synopsis
Synopsis

In his award-winning book WATER, Marq de Villiers provides an eye-opening account of how we are using, misusing, and abusing our planet's most vital resource. Encompassing ecological, historical, and cultural perspectives, de Villiers reports from hot spots as diverse as China, Las Vegas, and the Middle East, where swelling populations and unchecked development have stressed fresh water supplies nearly beyond remedy. Political struggles for control of water rage around the globe, and rampant pollution daily poses dire ecological theats. With one eye on these looming crises and the other on the history of our dependence on our planet's most precious commodity, de Villiers has crafted a powerful narrative about the lifeblood of civilizations that will be "a wake-up call for concerned citizens, environmentalists, policymakers, and water drinkers everywhere" (Publishers Weekly).
Product Identifiers
ISBN-10

0618127445

ISBN-13

9780618127443
Key Details
Author

Marq De Villiers,Marq de Villiers

Number Of Pages

368 pages

Format

Paperback

Publication Date

2001-07-12

Language

English

Publisher

Houghton Mifflin Harcourt Publishing Company
Additional Details
Copyright Date

2001

Illustrated

Yes
Dimensions
Weight

12.5 Oz

Height

0.8 In.

Width

5.5 In.

Length

8.2 In.
Classification Method
LC Classification Number

TD345.D473

Dewey Decimal

333.91

Dewey Edition

21
Table Of Content
Table Of Content

Contents acknowledgments / viii preface / xiii Part I The Where, What, and How Much of the Water World 1 /Water in Peril / 3 Is the crisis looming,or has it already loomed? 2 / The Natural Dispensation / 27 Who has how much,and who"s running out? 3 /Water in History / 46 Some things never change: how humans have always discovered, diverted, accumulated, regulated, hoarded,and misused water Part II Remaking the Water World 4 / Climate, Weather, and Water / 67 Are we changing the First, and will changes to the other two necessarily follow? 5 / Unnatural Selection / 85 Contamination, degradation, pollution, and other human gifts to the hydrosphere 6 / The Aral Sea / 105 An object lesson in the principle of unforeseen consequences 7 / To Give a Dam / 117 Dams are clean, safe, and store water for use in bad years, so why have they suddenly become anathema? 8 / The Problem with Irrigation / 136 Irrigated lands are shrinking, and irrigation is joining dams on an ecologist"s hit list. Why? 9 / Shrinking Aquifers / 146 If water mines ever run out, what then? 10 / The Reengineered River / 166 If you turn a river into a sewer, you can turn it back into a river again Part III The Politics of Water 11 / The Middle East / 185 If the water burden really is a zero-sum game, how do we get past the arithmetic? 12 / The Tigris-Euphrates System / 204 Shoot an arrow of peace into the air, and get a quiverful of suspicions and paranoias in return 13 / The Nile / 216 With Egypt adding another million people every nine months, demand is already in critical conict with supply. Another zero-sum game? 14 / The United States and Its Neighbors / 231 In the menage a trois of Canada, Mexico, and the United States, who is the seducer and who the seducee? 15 / The Chinese Dilemma / 263 China is not running out of water, except in places where water is needed most Part IV What Is to Be Done? 16 / Solutions and Manifestos / 275 If you"re short of water, the choices are stark: conservation, technological invention, or the politics of violence notes / 317 bibliography / 331 index / 339
Most relevant reviews
by

This is the best resource I have ever read on the future of our water.

This book is a definitive view of the current and future problems of freshwater availability. It is a "must read" for anybody interested in the history and future of a resource without which life on earth will not be sustained.

I first read this book nearly 15 years ago and it has stuck with me ever since, so I just had to get a copy of my own for future reference.