War of the Worlds: The Final Season (DVD, 2010, 5-Disc Set)
---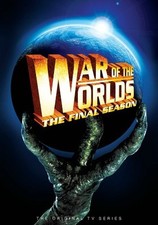 $18.05Free shipping
Est. Jul. 27 - Aug. 3 deliveryFrom New York, USA
Most relevant reviews
by

An Excellent show.

A must have for Sci Fi fans.

Adrian Paul (Highlander), Jared Martin (Fantastic Journey) and Julian Richings (Stephen King's Kingdom Hospital, Supernatural) make for a well rounded cast, this set is cleaned up a bit better than the first season set was.. very well put together.

This show paved the way for X-Files.... worth every penny.

by

Second Season?WHY?

Well to start off the picture quality is terrible. I mean it looked better when it was on the air.Storylines are very weak. First season was great. Well i guess thats why it only lasted two season.