Wall Street/Wall Street: Money Never Sleeps DVD, 2010, 2-Disc Set
---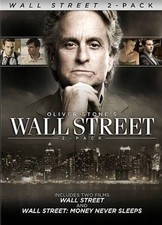 $29.94Free shipping
Est. Jul. 28 - Aug. 10 deliveryFrom Illinois
Most relevant reviews
by

A good sequel to the original

After spending years in prison Gordon Gekko (Michael Douglas) gets out to find that things have not changed much. His former partners have all moved on with their lives, his daughter Winnie (Carey Mulligan) is not talking to him and is about to become engaged to young investment banker Jacob Moore (Shia LaBeouf). But Gordon has plans. He writes a book, goes on a book tour and starts connecting with Jacob in an attempt to get back on good terms with Winnie who holds the key to his future.

This sequel to the 1980s hit movie has its good points and its not so good points. The story is up-to-date with the happening in real life wall street (housing bubble, bank failures) and gives a somewhat believable view on how that happened. The not so good points are that one man, Bretton James (Josh Brolin) is somehow responsible for everything.

This is a good movie for entertainment value and if you enjoyed the original movie you will enjoy this one.

The cast includes: Michael Douglas, Shia LaBeouf, Josh Brolin, Carey Mulligan, Frank Langella, Susan Sarandon, Vanessa Ferlito, Eli Wallach, Charlie Sheen, and Roger Hendricks Simon (Jim Cramer, Neil Cavuto, Donald Trump and Julianne Michelle have cameos)Read full review

by

Must have for your collection!

Must have for your collection! Great to have character span over 20 years. Great first movie, even better sequel. Oliver Stone did a great job. Michael Douglas, Charlie (Winning) Sheen, Shia all great.