Void Stalker 3 by Aaron Dembski-Bowden (2012, Paperback)
---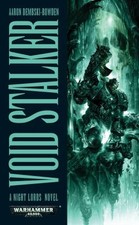 $53.50Free shipping
Est. Jul. 28 - Aug. 4 deliveryFrom Chattanooga, TN
About this product
Synopsis
Synopsis

The third book in the Night Lords trilogy by New York Times best selling author Aaron Dembski-Bowden. Talos and the rest of First Claw continue down their dark path, until it crosses that of the alien eldar the Farseers of the Ulthwe craftworld divine a great threat posed by the Night Lords, and seek to bring the myriad skeins of fate back into alignment before their prophecy can be fulfilled. With the wrath of the ancients upon them, Talos reluctantly leads his warriors into battle once more... Talos leads First Claw further down their dark path, until the eldar of craftworld Ulthwe foresee a great conflict centered around the Night Lords, and the xenos muster for battle!
Product Identifiers
ISBN-10

1849701490

ISBN-13

9781849701495
Key Details
Author

Aaron Dembski-Bowden

Number Of Pages

416 pages

Series

Night Lords Ser.

Format

Paperback

Publication Date

2012-04-24

Language

English

Publisher

Games Workshop, Limited
Additional Details
Series Volume Number

3

Copyright Date

2012
Dimensions
Weight

8 Oz

Height

1.2 In.

Width

4.2 In.

Length

6.8 In.
Classification Method
Dewey Decimal

823.92

Dewey Edition

23