Vermilion Pleasure Night - Crčme de la Crčme (DVD, 2006)
---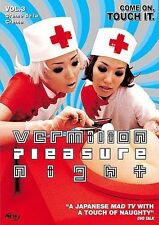 $5.95+ $3.95 Shipping
Est. Feb. 22 - Feb. 29 deliveryFrom McFarland, Wisconsin
About this product
Directed by artist Yoshimasa Ishibashi, the Japanese late-night variety show VERMILION PLEASURE NIGHT spins surreal comedy skits, off-kilter animation clips, and hyperactive J-pop musical sequences into a deliriously bizarre pop-culture confection. This collection presents the series' final two episodes.


Product Details
Number of Discs:
1
Rating:
Not Rated
Film Country:
Japan
UPC:
702727149221
Additional Details
Genre:
Foreign Films, Television
Format:
DVD
Most relevant reviews
by

Crazy Japs...

Whether or not you'll like Vermilion Pleasure Night really depends on how much appreciation you have for the Japanese culture... regardless of it making any sense whatsoever. One thing I've noticed is many reviews exaggerate about how "sexy" VPN is. These Asians are hot but over-all VPN is far from sexy. If you like intellectually devoid, American mannequins, asians that move like dolls while the same high pitched voice is dubbing theirs in English while they beat each other with chairs, catchy asian club-like tunes and dancing, and a bit of adult humor.. then I guess VPN stands a chance for you.