Truth for Today : A Daily Touch of God's Grace by John MacArthur (2001, Paperback)
---

$3.97Free shipping
Est. Aug. 3 - Aug. 16 deliveryFrom United States
---
More options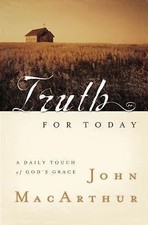 $3.97 Buy It Now
Free shipping

$3.97 Buy It Now
Free shipping
Great Prices on Nonfiction
About this product
Synopsis
Synopsis

In the tradition of Max Lucado's Grace for the Moment and Charles Swindoll's Wisdom for the Way comes a new book of inspirational thoughts by John MacArthur. Long respected as one of today's most knowledgeable Bible teachers, John MacArthur has never had a book that offers his insights in such an easily accessible manner. Be prepared to be encouraged, challenged, energized, and changed as MacArthur offers seasoned wisdom on different passages of Scripture. Perfect for daily readings, this unique gift book is destined to be a treasured classic for years to come.
Product Identifiers
ISBN-10

0849995639

ISBN-13

9780849995637
Key Details
Author

John MacArthur

Number Of Pages

384 pages

Format

Paperback

Publication Date

2001-10-28

Language

English

Publisher

Nelson Incorporated, Thomas
Additional Details
Number of Volumes

1 vol.

Copyright Date

2001

Illustrated

Yes
Dimensions
Weight

13 Oz

Height

1 In.

Width

4.2 In.

Length

6.1 In.
Classification Method
LCCN

2002-278355

LC Classification Number

BV4811.M234 2001

Dewey Decimal

242/.2

Dewey Edition

21
Most relevant reviews
by

Perfect little daily devotional!!

Nice pocket sized devotional! Easy thought provoking readings for each day. Short and sweet!!!! Durable hardcover book. Will last a long time and I will definitely pass it on when I am done!!!!

by

Very Good

It is very practical, and he calls you to obey God's words daily. There are several examples that he uses from his and other's life. I read a couple of the devotionals a day --I bought it in the middle of the year, so to catch up soon. I do recommend it. May God use His truth to sanctify us daily.