Troika : A Communicative Approach to Russian Language, Life, and Culture by Marita Nummikoski (1996, Hardcover)
---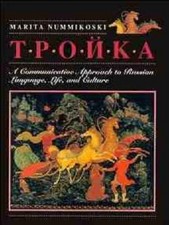 $227.00Free shipping
Est. Aug. 12 - Aug. 29 deliveryFrom Gloucester
About this product
Synopsis
Synopsis

This communicative, "natural approach" to introductory Russian emphasizes reading, writing, speaking, and listening skills. Everyday topics are presented to allow readers to begin communicating immediately. Grammar is presented as a necessary tool for communication and is introduced throughout. The book aims at comparing and contrasting cultures, rather than presenting the target culture only.
Product Identifiers
ISBN-10

0471309451

ISBN-13

9780471309451
Key Details
Author

Marita Nummikoski

Number Of Pages

640 pages

Format

Hardcover

Publication Date

1996-02-16

Language

English

Publisher

Wiley & Sons, Incorporated, John
Additional Details
Copyright Date

1996

Illustrated

Yes
Dimensions
Weight

42.5 Oz

Height

1 In.

Width

8.2 In.

Length

10.1 In.
Classification Method
LCCN

95-046413

LC Classification Number

PG2129.E5N86 1996

Dewey Decimal

491.782/421

Dewey Edition

20
Table Of Content
Table Of Content

Lesson 1. What is your name? Lesson 2. Do you speak Russian? Lesson 3. What do you have? Lesson 4. Where is the post-office? Lesson 5. Where do you live? Lesson 6. Do you work or study? Lesson 7. What do you do every day? Lesson 8. Do you like classical music? Lesson 9. What do you like to do in your free time? Lesson 10. Where do you study? Lesson 11. Where can I buy caviar? Lesson 12. What shall we do on Saturday? Lesson 13. What should I buy her? Lesson 14. What's the weather like tomorrow? Lesson 15. Where are you going in the summer? Lesson 16. Where are we going to eat? Lesson 17. What are your plans for the future? Lesson 18. How are you feeling?