Tony Hawk's Pro Skater 4 (Nintendo Game Boy Advance, 2002)
---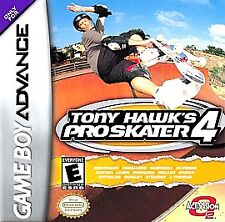 $9.00Free shipping
Est. Jul. 27 - Aug. 4 deliveryFrom League City, Texas
About this product
Product Information
Product Information

Like its "Pro Skater" predecessors on the handheld system, this Game Boy Advance version of Tony Hawk 4 features many of the same environments and goals found in the console editions of the title, translated to an isometric perspective for the small screen. In the role of Hawk or one of several other professional skateboarder characters, players will trick through each level for pleasure or points. As in THPS4 on the 128-bit consoles, this GBA interpretation relaxes the career run time limits of earlier versions, allowing players to explore each location and skate for fun, or accept rewarding timed challenges from various in-level NPC characters.
Product Identifiers
Publisher

Activision

Game

Tony Hawk's Pro Skater 4

MPN

047875803916

UPC

047875803916
Key Features
Platform

Nintendo Game Boy Advance

ESRB Rating

E - Everyone

Genre

Sports

Location

USA
Tech Details
ESRB Descriptor

Animated Blood

Control Elements

Gamepad/Joystick

Number of Players

1-4

Release Year

2002

Game Series

Tony Hawk's Pro Skater Series
Most relevant reviews
by

Tony Hawk Pro Skater 4

Bought this game. It works nicely on the DS screens and is easy to pick up and learn. I'd suggest this for anyone who likes skateboarding and challenge games.

by

ALWAYS THE BEST

Tony Hawk games are great period. Tony Hawks Pro Skater 4 is no different, in face it's got plenty of tricks and grinds all over. Perfect for the skater, or the gamer. I bought it because it was a good deal for the money.