The Wizard of Oz (DVD, 1998, Special Edition Collectible Gift Set)
---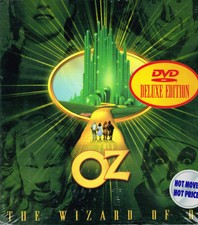 $39.95+ $6.00 Shipping
Est. Aug. 3 - Aug. 10 deliveryFrom Corinth, Maine
Top Selling in DVDs & Blu-ray Discs
Great Prices on DVDs & Blu-ray Discs
About this product
Additional Details
Genre:

Musical & Performing Arts

Format:

DVD

Display Format:

Special Edition Collectible Gift Set
Most relevant reviews
by

The Wizard of Oz - Collection Gift Set

I absolutely love the gift set; until 5 years ago there were 4 generations that watched the Wizard of Oz faithfully. Unfortunately, we are down to 3 generations. I look forward to chosing which "grandchild" or child, that I leave this beloved gift set to. I'm sure it will be treasured. Thank you so much and I highly recommend this gift set to all "Oz" lovers!

by

Wizard of Oz box set

I loved the entire set. It came in this big, cardboard box and came with a script, litographs, and of course, the DVD. I bought it because Wizard of Oz is one of my favorite movies of all time, and I hadn't seen a set like this ever. There's nothing really to dislike about it, unless you have a hard time storing it because the case is kinda big.

by

Great!!

Love this movie. It never grows old. I watched it as a child and then watched it with my children, who loved it also. We are now watching it with the grandchildren.