The Virgin of Juarez (DVD, 2006)
---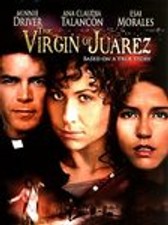 $9.05Free shipping
Est. Aug. 3 - Aug. 8 deliveryFrom Elk Grove, California
Top Selling in DVDs & Blu-ray Discs
Great Prices on DVDs & Blu-ray Discs
Most relevant reviews
by

Great Movie. You want to forget it is based on truth.

This is a very good movie that reminds me of something between "Agnes of God" and a good Vampire flick with a little "traffic" thrown in just for a documentary look. It has an otherworldly dark versus light feel to it. When it is over, you really want to forget the fact that it is based on actual events.

by

A must see

i saw this film in New York and it hasn't left my mind since. Grat performances and a very atmospheric film.