The Verdict (DVD, 2004, Sensormatic; Widescreen)
---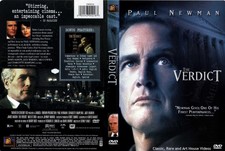 $11.90Free shipping
Est. Feb. 11 - Feb. 17 deliveryFrom Dayton, Ohio
About this product
Sidney Lumet directs Paul Newman as an alcoholic lawyer whose once-promising legal career is on the skids and who gets and one last chance to prove himself in this tense courtroom drama. Frank Galvin (Newman) can't even scare up clients anymore until a colleague Mickey Morrissey (Jack Warden) helps him out by passing a routine malpractice case his way. Frank is just going through the motions until he meets the victim, a woman who has suffered complications during childbirth and is now reduced to a permanently comatose state. Rejecting the Catholic hospital's offer of a financial settlement, Frank decides to take the case to court, battling both for his client's rights and for his own dignity. Newman gives the finest performance of his career. James Mason is perfect as Edward J. Concannon the slimy lawyer for the defense. David Mamet provides the face-paced, honest, and suspenseful screenplay. Shot sparsely in gray tones in the cold climate of a Boston winter, the film was deservedly nominated for five Academy Awards.


Product Highlights
Video Trailer:
Product Details
Edition:
Sensormatic; Widescreen
Number of Discs:
1
Rating:
R (MPAA)
Film Country:
USA
UPC:
024543042174
Additional Details
Genre:
Dramas
Format:
DVD
Display Format:
Sensormatic; Widescreen
"...Newman delivers....A clever, suspenseful, entertaining movie..."
New York Times - Janet Maslin (12/08/1982)

"...One of the most gripping courtroom dramas ever made..."
USA Today - Mike Clark (06/14/2002)

"One of Lumet's best films, this David Mamet-scripted courtroom drama combines the liberal humanism found in the director's earlier 12 ANGRY MEN with a barbed, satirical edge."
Sight and Sound - Geoffrey Macnab (07/01/2007)

4 stars out of 5 - "The bulk of the heavy dramatic lifting...is in the play of emotions across Newman's craggy features. Few other stars have ever had the guts to sink to this whisky-soaked low."
Total Film - Ceri Thomas (05/01/2007)

"...There are many fine performances and sensitive moral issues contained in THE VERDICT..."
Variety - Berg. (11/24/1982)

3 stars out of 5 -- "The film features a typically engaging performance from Newman..."
Ultimate DVD - Chris Prince (03/01/2007)

"The film features the most impressive performance the acting giant ever game....The performance is all internal detonations and quiet determination." -- Grade: A
Entertainment Weekly - Keith Staskiewicz (05/03/2013)


Most relevant reviews
by

Paul Newman shines

This is Paul Newman at his finest. The movie is so full of emotion and redemption, and is an excellent example of the rich not being able to overcome truth just because of the amount of money that is spent. I watch this movie yearly and it never gets stale.