The Smurfs: World of Wonders (DVD, 2009)
---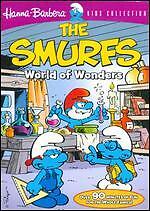 $8.99+ $3.00 Shipping
Est. Aug. 3 - Aug. 8 deliveryFrom Honolulu, Hawaii
Top Selling in DVDs & Blu-ray Discs
Great Prices on DVDs & Blu-ray Discs
Most relevant reviews
by

I got exactly what I wanted!

The Smurfs dvd came exactly the way it was illustrated online with a wonderful scene of frolicking Smurfs on the cover, filled with color and precise information on its content. I purchased it because my 3 year old is in love with this cartoon and while we record it at home from Boomerang, we needed to supply her with viewing purposes in the car as well. :)

by

It's like a time machine!

What a great gift for my wife! She's was instantly brought back to her childhood. Our daughter enjoyed it as well.