The Practice of Statistics in the Life Sciences by Brigitte Baldi and David S. Moore (2008, Hardcover)
---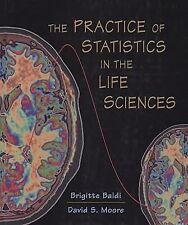 $50.00+ $4.00 Shipping
Est. Jul. 30 - Aug. 6 deliveryFrom Yorktown Heights, New York
About this product
Synopsis
Synopsis

Over the past two decades, David Moore's texts helped drive the evolution of statistics education from a focus on computation and formulas to an emphasis on how data are actually collected, analyzed, and interpreted by professionals in real-world settings. Now Brigitte Baldi and David Moore have produced a version of Moore's bestselling brief introductory text, The Basic Practice of Statisticsfor students in the life sciences. With its focus on life science data sets, examples, and exercises, The Practice of Statistics in the Life Sciences( PSLS) features the writing style and helpful pedagogy that have helped hundreds of thousands of students see the meaning and relevance of real-world statistics in action. Life science, nursing and allied health students with limited mathematical backgrounds will be able to utilize the same fundamental tools, techniques, and interpretive skills working statisticians rely on everyday. Examples and exercises are drawn from diverse areas of biology such as physiology, brain and behavior, health and medicine, nutrition, ecology, and microbiology.
Product Identifiers
ISBN-10

1429218762

ISBN-13

9781429218764
Key Details
Author

Brigitte Baldi,David S. Moore

Format

Hardcover

Publication Date

2008-01-09

Language

English

Publisher

Freeman & Company, W. H.
Dimensions
Weight

58.1 Oz

Height

1.2 In.

Width

8.8 In.

Length

10.2 In.
Classification Method
Dewey Decimal

519.5

Dewey Edition

23
Most relevant reviews
by

Textbook Review

I bought this book for a college course Biostatistics (BIO 201). The book is very easy to read and well organized. There are plenty of examples. I have yet to use the CD but then again we haven't really done much in the class yet.

by

Never received the book

Like the title says, I ordered a textbook for 75 dollars and I never received it. The seller never responded to my emails and I had to file a claim with ebay.

DO NOT BUY.