The Ottoman Empire and Its Heritage: French Trade in Istanbul in the Eighteenth Century 19 by Edhem Eldem (1999, Hardcover)
---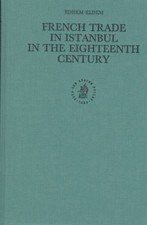 $253.00Free shipping
Est. Aug. 19 - Sep. 7 deliveryFrom Gloucester
---

$282.95 Buy It Now
Free shipping
About this product
Synopsis
Synopsis

This work deals with French trade in Istanbul in the eighteenth century, using French and Ottoman sources, and integrating the political and social dimensions of the question. It also sheds light on the financial dimension of trade, particularly that of bills of exchange and monetary trade, linking Istanbul to other Ottoman cities and to European financial centers. Finally, it tackles the issue of western economic penetration, arguing that, despite some signs of domination, French control over the market was efficiently opposed by local actors, that economic integration with the West was often realized on equal terms, and that much of the domination witnessed toward the end of the century was, in fact, the result of French diplomatic leverage and of the gradual estrangement of non-Muslim traders from the Ottoman commonwealth"."
Product Identifiers
ISBN-10

9004113533

ISBN-13

9789004113534
Key Details
Author

Edhem Eldem

Number Of Pages

324 pages

Series

The Ottoman Empire and Its Heritage

Format

Hardcover

Publication Date

1999-05-21

Language

English

Publisher

BRILL
Additional Details
Series Volume Number

19

Illustrated

Yes
Dimensions
Weight

26.8 Oz

Height

1 In.

Width

6.4 In.

Length

9.6 In.
Target Audience
Group

Scholarly & Professional
Classification Method
LCCN

99-027409

LC Classification Number

HF3558.T9E43 1999

Dewey Decimal

382/.09440561

Dewey Edition

21