The New Drawing on the Right Side of the Brain by Betty Edwards (1999, Hardcover, Revised)
---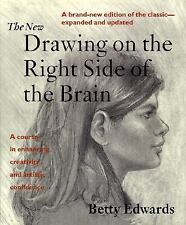 $8.23Free shipping
Est. Feb. 16 - Feb. 29 deliveryFrom Clarksville, Tennessee
About this product
Synopsis
Helps the reader gain access to right-brain functions, which affect artistic and creative abilities, by teaching the skills of drawing through unusual exercises designed to increase visual skills.

When Drawing on the Right Side of the Brain was first published in 1979, it hit the New York Times bestseller list within two weeks and stayed there for more than a year. In 1989, when Dr. Betty Edwards revised the book, it went straight to the Times list again. Now Dr. Edwards celebrates the twentieth anniversary of her classic book with a second revised edition. Over the last decade, Dr. Edwards has refined her material through teaching hundreds of workshops and seminars. Truly The New Drawing on the Right Side of the Brain , this edition includes: the very latest developments in brain research new material on using drawing techniques in the corporate world and in education instruction on self-expression through drawing an updated section on using color detailed information on using the five basic skills of drawing for problem solving Translated into thirteen languages, Drawing on the Right Side of the Brain is the world's most widely used drawing-instruction guide. People from just about every walk of life--artists, students, corporate executives, architects, real estate agents, designers, engineers--have applied its revolutionary approach to problem solving. The Los Angeles Times said it best: Drawing on the Right Side of the Brain is "not only a book about drawing, it is a book about living. This brilliant approach to the teaching of drawing . . . should not be dismissed as a mere text. It emancipates."


Product Identifiers
ISBN-10
0874774195
ISBN-13
9780874774191


Key Details
Author
Betty Edwards
Number Of Pages
1 pages
Edition Description
Revised
Format
Hardcover
Publication Date
1999-09-06
Language
English
Publisher
Penguin Publishing Group


Additional Details
Edition Number
3
Copyright Date
1999
Illustrated
Yes


Dimensions
Weight
28 Oz
Height
1.2 In.
Width
8 In.
Length
9.2 In.


Target Audience
Group
Trade
Grade From
Twelfth Grade
Grade To
up
Age Range
18 - UP


Classification Method
LCCN
99-035809
LC Classification Number
NC730.E34 1999
Dewey Decimal
741.2
Dewey Edition
21


Most relevant reviews
by

Learn to draw well in a very short time.

This was a ground-breaking book back in 1979 when after studying the research done by Robert Sperry on Right Brain function, Better Edwards, an art teacher, applied the principles to her art classes. My personal journey that lead me to read the book began 2 years before Edwards published her first version. I had been studying Art at CSUN and UCLA and wasn't especially good. But during one class something happened and suddenly I becoming an artist, literally over night, (one day I couldn't draw, the next day I could and went on to win awards and sell hundreds of paintings and drawings) I was baffled about what had happened to me. I would paint, usually in the evenings, and the next morning I couldn't believe I had done it. I was afraid I would lose whatever it was that had happened. So I framed each new work, hung them on the wall in my family room and put teeny little price stickers on each one. It's funny now thinking back on it. But I remember the day that 2 of my friends came over to see my work. Each one wanted to by a piece. I freaked out. Yes, I did want to sell my art. But I said they could have them in a week and I painted another one of each one before I delivered the ones they had purchased.

Over the next 2 years I painted day and night, selling several 100 pieces. I entered art shows, being given many blue ribbons, and best of show honors. Yet, it just didn't seem real. Then one day I read about a women who was teaching kids to draw their hands. I knew the human hand was considered one of the hardest subjects to draw. But I saw examples of the work and it was amazing. I had to learn more. She was too far away for me to study with.

So, I was thrilled to hear she had written a book. I got it and dived in. Now I understood why I could draw. And I wanted to learn more. The book was fabulous. It made total sense to me. So I managed to find one of Betty Edwards' former graduate students who was teaching a full course based on the Right Brain Drawing concept at UCLA. I signed up and again I loved every second of it. After I finished school I able to offer workshops based on the concepts. Eventually I was teaching it at several local colleges to full classes every session.

I was astonished at the results. My classes were packed, and every series of 8 to 12 meetings would was averaging 97% of the students having seen amazing results. Some were selling their work before the end of session. Everyone improved.

I eventually met Betty Edwards at a book signing for her 1999 edition. I purchased a copy told her about my experiences with the concept. She asked me to join her for a talk and we spent about half an hour discussing the results with 1000s of both of our students using the method.

Her 1999 book contains many of the original material along with some new ideas that are positive additions to the original book. I recommend either version of the Right Brain Drawing Books, to anyone who is interested in learning to draw well in a short period of time. It works if a person is willing to begin at the beginning and do each lesson exactly as outlined. It's a series of lessons about learning to actually see what you are looking at. As strange as that sounds, it absolutely works and drawing well is the result.

After teaching the method for almost 20 years at 9 different colleges and prep schools to over 20,000 students I can honestly say that if properly applied, there is no other method with results that compare.Read full review

by

Buy It!

Very useful for any art student or any person who would like to be one. Nothing bad can come from reading this book and trying some of the exercises! My daughter has done several things IN her art classes that came straight from "...Drawing on the Right Side.." .
Have no clue where to begin drawing? Get this book. Draw pretty well but want to get better? Get this book. The accompanying workbook has some useful tools that go with this book too, so I'd recommend getting both.

by

The New Drawing on the Right Side of the Brain by Betty

My boyfriend is loving it. He has improved is his work with this book. I had a friend tell me this is what she started with and she know does art work for tattoo arties on the side. That is what he working at.