The Lord of the Rings: The Two Towers (Blu-ray/DVD, 2010, 2-Disc Set)
---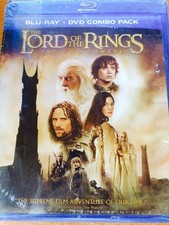 $5.89+ $0.99 Shipping
Est. Aug. 3 - Aug. 8 deliveryFrom Newhall, California
Top Selling in DVDs & Blu-ray Discs
Great Prices on DVDs & Blu-ray Discs
Most relevant reviews
by

A Masterpiece!!!

Lord of the Rings 2nd movie of 3 in total. Personally I would say that this is the best of them all. The plot, the fighting, the action, the scenes, sounds, acting, the special effects is so well synchronized and directed by Peter Jackson in his pursuit for excellence in cinematography.

The Two Towers is simply a Masterpiece. A movie that you can enjoy it every time you watch it, as well as the companion movies...

Highly recommended and to have them all... Simply Superb!!!

by

Great movie lots of fun.

Great movie blu ray looks very good. One of my favorite since the battle of helms deep. Great ride a great film for people who like this genre.