The Globalization of World Politics : An Introduction to International Relations (1997, Paperback)
---
OUR TOP PICK
delivery
Est. Sep 1 - Sep 15From United States
Returns
Buyer pays return shipping
---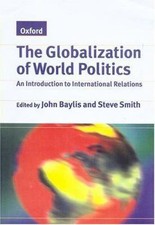 $3.97 Buy It Now
Free shipping
Great Prices on Textbooks, Education

About this product
Synopsis
Synopsis

We now live in a new era of globalization, where instant communications, the emergence of a world economy, a global culture, and new non-state social movements have transformed world politics, making redundant many of the approaches developed for understanding and explaining the Cold War world.
Product Identifiers
ISBN-10

0198781091

ISBN-13

9780198781097
Key Details
Number Of Pages

560 pages

Format

Paperback

Publication Date

1997-07-10

Language

English

Publisher

Oxford University Press, Incorporated
Additional Details
Copyright Date

1997

Illustrated

Yes
Dimensions
Weight

32.8 Oz

Height

1.1 In.

Width

7.4 In.

Length

9.7 In.
Classification Method
LCCN

96-024110

LC Classification Number

JZ1242.G58 1997

Dewey Decimal

327.1/01

Dewey Edition

21
Contributors
Edited by

John Baylis,Steve Smith
Table Of Content
Table Of Content

Introduction, Steve Smith and John Baylis 1. The Globalization of World Politics, Jan Aart Scholte Part One: The Historical Context 2. The Evolution of International Society, Robert Jackson 3. International History 1900-1945, Susan Carruthers 4. International History 1945-1989, Len Scott 5. The End of the Cold War, Richard Crockatt Part Two: Theories of International Politics 6. Realism, Timothy Dunne 7. World-System Theory, Steven Hobden and Richard Wyn Jones 8. Liberalism, Timothy Dunne 9. New Approaches to International Theory, Steve Smith Part Three: Structure and Process 10. International Security in the Post-Cold War Era, John Baylis 11. International Political Economy in an Age of Globalization, Roger Tooze 12. International Regimes, Richard Little 13. Diplomacy, Brian White 14. The United Nations and International Organizations, Paul Taylor 15. Transnational Actors and International Organizations in Global Politics, Peter Willetts Part Four: International Issues 16. Environmental Issues, Owen Greene 17. Nuclear Proliferation, Darryl Howlett 18. Nationalism, Fred Halliday 19. Cultural Conflict in International Relations: The West and Islam, Simon Murden 20. Humanitarian Intervention and World Politics, Nick Wheeler 21. Regionalism and Integration, Fiona Butler 22. Finance and World Trade, Jan Aart Scholte 23. Poverty, Development, and Hunger, Caroline Thomas 24. Human Rights, Chris Brown 25. Gender Issues, Jan Pettman Bibliography Index
This item doesn't belong on this page.
Thanks, we'll look into this.