The Emperors of Chocolate : Inside the Secret World of Hershey and Mars by Joël Glenn Brenner (2000, Paperback)
---
OUR TOP PICK
delivery
Est. Sep 6 - Sep 13From 94401
---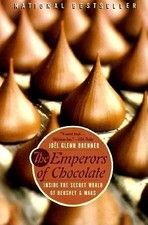 $12.65 Buy It Now
Free shipping
About this product
Synopsis
Synopsis

Corporate candy giants Milton Hershey and Forrest Mars built business empires out of one of the world's most magical, sought-after substances: chocolate. InThe Emperors of Chocolate, Joel Glenn Brenner--the first person to ever gain access to the highly secretive companies of Hershey and Mars--spins a unique story that takes us inside a world as mysterious as Willy Wonka's Chocolate Factory. Packed with flavorful stories and outrageous characters that give the true scoop on this real-life candyland,The Emperors of Chocolateis a delectable read for business buffs and chocoholics alike. Start reading and you'll soon be hungry for more.,Examines one of the most bitter rivalries in American business.
Product Identifiers
ISBN-10

0767904575

ISBN-13

9780767904575
Key Details
Author

Joël Glenn Brenner

Number Of Pages

384 pages

Format

Paperback

Publication Date

2000-01-04

Language

English

Publisher

Broadway Books
Additional Details
Copyright Date

2000

Illustrated

Yes
Dimensions
Weight

7.8 Oz

Height

0.8 In.

Width

5.5 In.

Length

8.1 In.
Classification Method
LCCN

99-044715

LC Classification Number

HD9200.U54H473 2000

Dewey Decimal

338.7/664153/0973

Dewey Edition

21
Reviews
Reviews

"The Emperors of Chocolatebrilliantly chronicles the near-century-old battle for the hearts and stomachs of consumers all over the world . . . Reminiscent ofBarbarians at the Gate. . . it's a fast, exciting, and even moving story about an industry that's anything but sweet." --Providence Journal "Espionage, deception, and obsessive secrecy--it sounds more like covert warfare . . . A remarkable new look at an enterprise that's much nuttier than you might have thought." --People(starred review) "A richly satisfying read . . . Brenner's fast-paced book is sprinkled with welcome detail, lively quotes, evocative descriptions of one chocolate's 'mouthfeel' vs. another's . . . Consider making a present of this appropriately flavored book." --Washington Post Book World "Delicious . . . a trenchant account of a fascinating industry--one that certainly has a generous sprinkling of nuts." --Entertainment Weekly
This item doesn't belong on this page.
Thanks, we'll look into this.