The Darwin Awards II : Unnatural Selection by Wendy Northcutt (2003, Paperback, Reprint)
---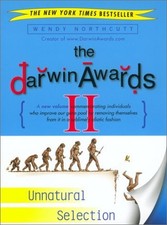 $4.99+ $3.49 Shipping
Est. Aug. 4 - Aug. 11 deliveryFrom Buffalo, NY
Great Prices on Nonfiction
About this product
Synopsis
Synopsis

The Darwin Awards II: Unnatural Selection brings together a fresh collection of the hapless, the heedless, and the just plain foolhardy among us. Salute the owner of an equipment training school who demonstrates the dangers of driving a forklift by failing to survive the filming of his own safety video. Gawk at the couple who go to sleep on a sloping roof. Witness the shepherd who leaves his rifle unsecured only to be accidentally shot by one of his own flock.With over one hundred Darwin Award Winners, Honorable Mentions, and debunked Urban Legends, plus science and safety tips for avoiding the scythe of natural selection, The Darwin Awards II proves once again how uncommon common sense can be."
Product Identifiers
ISBN-10

0452284015

ISBN-13

9780452284012
Key Details
Author

Wendy Northcutt

Number Of Pages

256 pages

Edition Description

Reprint

Format

Paperback

Publication Date

2003-03-25

Language

English

Publisher

Penguin Publishing Group
Dimensions
Weight

7.9 Oz

Height

0.7 In.

Width

5.3 In.

Length

7.2 In.
Target Audience
Group

Trade

Grade From

Twelfth Grade

Grade To

up

Age Range

18 - UP
Classification Method
Dewey Decimal

081

Dewey Edition

21
Reviews
Reviews

"Delightfully funny, The Darwin Awards, taken together, constitute a delicious sermon in support of common sense." The Baltimore Sun "The Darwin Awards is a riot to read. Deeply entertaining." San Francisco Weekly
Most relevant reviews
by

The Darwin Awards is a Great Series!

This is a great series! I originally purchased this for my Father for Christmas and had to read it before I sent it to him. My Mother had told me he liked these types of books. Short stories. I am told these are similar to the "Bathroom Reader". This is an excellent series for light and entertaining reading. It is amazing some of the things we do as a society and the brains that some people have. For those unfamiliar with this series, it is usually just a one or two page story about the dumb things people do. An example is the person who robs a bank and then realizes they are low on gas and stop at a gas station down the street to fill up. My Father likes them for "Bathroom Reading" because they are light stories and can be read one at a time or a few, whichever you wish. I liked it because I could read it whenever I got a chance, like waiting at the Doctor's office, standing in line at the Post Office etc. They are great books and there are three in the series. This series reminds me of the book version of the TV show World's Funniest Videos.Read full review

by

Very funny book-worth reading-very amusing!

Great book. EXTREMELY funny! We had a previous edition.
It has great appeal to kids, especially to teenagers.
We highly recommend THE DARWIN AWARDS!