The Darkest Hour (Blu-ray Disc, 2012, 3D)
---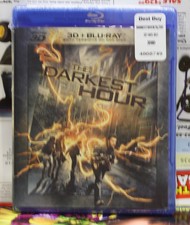 $10.99+ $3.50 Shipping
Est. Feb. 16 - Feb. 20 deliveryFrom Phoenixville, Pennsylvania
About this product
Experience science fiction at its best with the "The Darkest Hour" Blu-ray Disc. This sci-fi thriller movie tells the story of five young people, Ben, Sean, Natalie, Anne and Skyler, struggling to stay alive in Moscow after a massive alien attack. Packed with mechanical aliens, invisible force fields, and loads of bloodied action sequences, this movie gives you a thrilling viewing experience. From vast alien attacks to multiple civilian massacres, this Blu-ray Disc movie ensures that you stay tuned all the time. Additionally, "The Darkest Hour" sci-fi thriller boasts great cinematic visuals to make it a lot more compelling. Moreover, if you are a fan of aliens or just want to set your heart racing, watch "The Darkest Hour" at the comfort of your home.


Product Highlights
Video Trailer:
Product Details
Edition:
3D
Number of Discs:
1
Rating:
PG-13 (MPAA)
Film Country:
USA
UPC:
025192133244
Additional Details
Genre:
Horror/Suspense
Format:
Blu-ray Disc
Display Format:
3D
3 stars out of 5 -- "Director Chris Gorak adds visual spice by setting the action in Moscow...and allowing Timur Bekmambetov to sprinkle proceedings with his trademark gritty surrealism."
Total Film - Ken McIntyre (04/01/2012)


Most relevant reviews
by

A great movie for my collection.

It was a unique alien picture set in Russia, actors were very good as were the effects used.
I saw this on Netflix and decided it would be great for my collection.