The Complete Garden Guide : A Comprehensive Reference for All Your Garden Needs by Time-Life Books Editors (2000, Hardcover)
---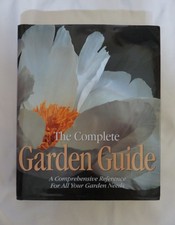 $39.95+ $5.00 Shipping
Est. Jul. 29 - Aug. 5 deliveryFrom Agency, Iowa
About this product
Product Identifiers
ISBN-10

0737006145

ISBN-13

9780737006148
Key Details
Author

Time-Life Books Editors

Number Of Pages

992 pages

Format

Hardcover

Publication Date

2000-02-01

Language

English

Publisher

Time-Life Incorporated
Additional Details
Copyright Date

2000

Illustrated

Yes
Dimensions
Weight

116.7 Oz

Height

1.9 In.

Width

9.4 In.

Length

11.1 In.
Target Audience
Group

Juvenile Audience

Age Range

13
Classification Method
LCCN

99-040070

LC Classification Number

SB453.C6416 2000

Dewey Decimal

635

Dewey Edition

21
Most relevant reviews
by

The Complete Garden Guide (2000)

I love this book. It is probably the best gardening book I have. My girlfriend has it and I have borrowed it numerous times and finally decided that I had to buy it for myself.
Profusely illustrated with beautiful color. The diagrams, maps and charts along with detailed instructions make this an incredibly useful tool. The subtitle says: a comprehensive reference for all your garden needs. It is surely that. This will never be a cheap book. 991 pages.
Condensed table of contents:
A Garden Sampler -- A Guide to the Gardens -- Designing Your Garden -- Furnishing Your Landscape -- Designing with Plants -- Successful Garden Plans -- Planting Your Garden -- Maintaining the Garden -- Problem-Solving Garden Techniques -- Coping with Garden Pests -- Preventing Plant Disease -- Growing a Healthy Lawn -- Kitchen Gardening the Organic Way -- Growing Vegetables and Herbs -- The Portable Kitchen Garden -- Reaping the Harvest -- Kitchen Garden Recipes -- Answers to Common Questions -- Troubleshooting Guide -- Zone and Frost Maps of the United States -- Guide to Common Garden Weeds -- Plant Selection Guide -- Color Guide to Herbaceous Plants -- Encyclopedia of Plants -- Index.
You will not regret this purchase.Read full review

by

The Complete Garden Guide (2000)

This book is amazing. It is fully detailed including pictures of the many ways to gardening. It even has plans for many different types of gardens along with plants that would look great in the garden. It has a section devided into categories Sunny, part shade, and shade. With plants discriptions including zones for each of those categories. This book is well worth the retail price. Even though I purchased at a much lower price. I give this book an A+++++++++++ for value. Just too jammed pact with information. I recommend this book to beginners to the most experienced.