The Birth of the Blues (VHS, 1995)
---
OUR TOP PICK
delivery
Est. Aug 31 - Sep 8From 55428
---
More options

$7.99 Buy It Now
Free shipping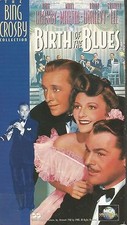 $8.99 Buy It Now
Free shipping
Great Prices on VHS Tapes

Most relevant reviews
by

birth of the blues

I love the music and the whole theme of this movie. I could play it over and over. I had tryed to find this movie before but it was hard to find. Now I have my own copy so I can see it anytime.
This item doesn't belong on this page.
Thanks, we'll look into this.