The Big Trail (DVD, 2008, 2-Disc Set, Grandeur Special Edtion)
---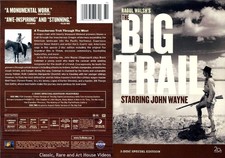 $10.90Free shipping
Est. Feb. 16 - Feb. 20 deliveryFrom Dayton, Ohio
About this product
Pioneers heading for Oregon endure the hardships of weather, unfriendly strangers and internal strife in this sophisticated early sound film. Featuring John Wayne in his first starring role, this straightforward Western tale is now overshadowed by its place in history as an early example of Fox's widescreen Grandeur process, its naturalistic sound, and prototypical Wayne performance.


Product Highlights
Video Trailer:
Product Details
Edition:
2-Disc Set; Grandeur Special Edtion
Number of Discs:
2
Rating:
Not Rated
Film Country:
USA
UPC:
024543519300
Additional Details
Genre:
Westerns
Format:
DVD
Display Format:
2-Disc Set; Grandeur Special Edtion
"...It's a splendid entertainment....The film's look and feel seem way ahead of its time..."
Los Angeles Times - Kevin Thomas (11/18/1985)

"...It comes off as one of the better early talkies..."
USA Today - Mike Clark (05/30/2003)

"This is a wagon-train movie with Wayne's scout at the center....It's interesting to see his persona in this embryonic form....What's really compelling is the authenticity of the wagon train's journey."
Sight and Sound - Tom Charity (08/01/2008)


Most relevant reviews
by

The Big Trail (Grandeur version): An unparalelled Masterpiece of Imagery

The imagery and direction of THE BIG TRAIL consistently captures the feel of 1840s migration like no other I've ever seen. Nearly any screenshot could pass as an original photo, were there photography at that time, and respectable historical advisers were apparently on payroll. A few small inaccuracies can be found, like slightly incorrect costumes, but these are made up for with rare authenticity, like the correct way to circle wagons to form a corral, with each overlapping the last, and the management of gear in camp. Hundreds of real, full-size wagons and migrants contrast sharply with contemporary movies that shoot around thirty smaller-scale vehicles.

THE ORIGINAL WIDE-SCREEN "GRANDEUR" VERSION IS A MUST!

What you miss with the small screen is heartbreaking. This disk also has a mesmerizing "the making of" listing the use of 140 wagons, 20,000 extras, thousands of livestock, and filmed over 4,200 miles in 7 states -- unparallelled, then and now!

WARNING TO YOUNG VIEWERS: this movie was made in 1930, one of the first ever "talkies" and the acting retains some of that silent style. Highly recommended for historical value.Read full review

by

The Big Trail

I bought the wide screen version made in the 30's before wide screens were even in theaters so the movie did not do well. The DVD I bought is the two disc special grandeur version that has been beautifully restored with wide screen viewing and cleaned up sound. This movie looks so authentic you swear you can smell the animals and taste the dust.

A great buy if you can find one!