The Bailey School Kids: Werewolves Don't Go to Summer Camp 2 by Debbie Dadey and Marcia Thornton Jones (1991, Paperback)
---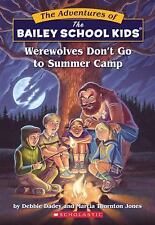 $3.80Free shipping
Est. Aug. 1 - Aug. 8 deliveryFrom 15137
About this product
Synopsis
Synopsis

The Bailey Elementary third-graders are greeted at camp by the growling, barefoot Mr. Jenkins. He eats nearly raw hamburgers, avoids lights and campfires, and warns the campers about the legend of a little boy's disappearance and the howl of a lone wolf. Could Mr. Jenkins be a werewolf?,The hugely popular early chapter book series re-emerges with a new look! Brand-new eye-catching cover art brings a modern feel to this classic monster series for young readers. The new director at Camp Lone Wolf seems like a nice guy. But when the kids learn the legend of a local boy who disappeared and the wolf that prowls the campgrounds howling in the night, they start to wonder if Camp Lone Wolf is more than just a name. Mr. Jenkins is covered in hair, eats his meat almost raw, and has an obsession with wolves. But could he really be a werewolf?
Product Identifiers
ISBN-10

0590440616

ISBN-13

9780590440615
Key Details
Author

Debbie Dadey,Marcia Thornton Jones

Number Of Pages

96 pages

Series

The Bailey School Kids

Format

Paperback

Publication Date

1991-07-01

Language

English

Publisher

Scholastic, Incorporated
Additional Details
Series Volume Number

2

Copyright Date

1991

Illustrated

Yes
Dimensions
Weight

2.6 Oz

Height

0.2 In.

Width

5.3 In.

Length

7.6 In.
Target Audience
Group

Juvenile Audience

Grade From

Second Grade

Grade To

Fifth Grade

Age Range

7 - 10
Classification Method
LCCN

2012-379606

LC Classification Number

CPB

Dewey Decimal

[Fic]
Contributors
Illustrated by

John Steven Gurney