The 34th Degree : A Thriller by Thomas Greanias (2011, Hardcover)
---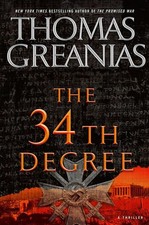 $7.49+ $3.49 Shipping
Est. Aug. 4 - Aug. 11 deliveryFrom Buffalo, NY
Great Prices on Fiction & Literature
About this product
Synopsis
Synopsis

A continuation of the thrilling adventure that began with The Promised War, featuring Israeli counter-terrorism agent Sam Deker.,An ancient text. A world at war. The end of history. Prepare to be initiated into The 34th Degree. From New York Times bestselling author Thomas Greanias comes an all-new, reality-altering epic adventure featuring counter-terrorism agent Sam Deker from The Atlantis Revelation and The Promised War . 1943. The supernatural alchemy for the ultimate weapon, encoded in an ancient biblical text, has fallen into the hands of the most ruthless secret society known to man-the Nazi SS. Present Day. Dishonorably discharged from the armed forces after the events of The Promised War , Sam Deker is trying to build a new life in Los Angeles. But nightmares of the past continue to haunt his present, and Deker discovers that the unusual lightwave-induced torture he barely survived has changed him. The Pentagon, however, believes that change makes him the only one who can endure their top-secret neuro-simulation program known as the 34th Degree. The stunning technological breakthrough uses the sliced brain tissues of dead terrorists to enter their memories and glean priceless intel. Now Americans want to use the preserved brain tissue of SS General Ludwig von Berg, the legendary "Baron of the Black Order," to send Deker back to 1943. Deker's mission is to discover the fate of the lost biblical text and steal its formulas before his counterparts in the Alignment, a 21st-century successor to the SS, beat the U.S. to it. The text not only spells out the end of the world, but the supernatural alchemy for Greek Fire, a thermodynamic technology that the ancient Greeks believed to have come from Atlantis and that the Americans now believe threatens the Earth. Ultimately, Deker discovers that the past, present and future are not what they seem, as his path leads to a shattering secret that will change everything he knows about the universe.
Product Identifiers
ISBN-10

1451612397

ISBN-13

9781451612394
Key Details
Author

Thomas Greanias

Number Of Pages

480 pages

Format

Hardcover

Publication Date

2011-06-28

Language

English

Publisher

Atria Books
Dimensions
Weight

22.4 Oz

Height

1.4 In.

Width

6 In.

Length

9 In.
Classification Method
LCCN

2011-003088

LC Classification Number

PS3607.R4286A55 2011

Dewey Decimal

813/.6

Dewey Edition

22
Most relevant reviews
by

Great value for the money..Will read this author's works !!!

I like Spy Mysteries...So far it's well written, easy to read and the author is accurate with the History of the day.

Well done...!!!!