Talking Heads - Stop Making Sense (Blu-ray Disc, 2009)
---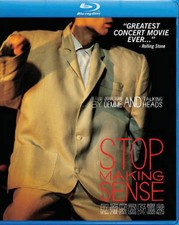 $31.82Free shipping
Est. Feb. 12 - Feb. 26 deliveryFrom North Carolina
About this product
Those who aren't familiar with the work of seminal 1980s band The Talking Heads may find themselves becoming instant fans after viewing this incredibly entertaining concert film. It starts with David Byrne stepping out alone on empty stage with an acoustic guitar to sing "Psycho Killer." The rest of the musicians follow one by one and the stage gradually fills to bursting with powerful, tightly orchestrated brilliance. Director Jonathan Demme (SILENCE OF THE LAMBS, PHILADEPLPHIA) expertly captures the music's energy, fusing cinema with performance to create something more than the sum of its parts. Through it all, Byrne comes off as a charismatic artist of supernatural energy and robotic precision, and he's backed by an equally inspired group of musicians, including bassist Tina Weymouth. Artistically ambitious, filled with joyous but controlled energy, this is considered by many critics to be the best concert film of all time. Songs performed include "Take Me to the River," "Once in a Lifetime," "Girlfriend is Better," "Burnin' Down the House" and a hilarious cover of "Genius of Love, " by the Tom-Tom Club (a side project for bassist Tina Weymouth and drummer Christ Frantz). It was filmed at the Pantages Theater in Los Angeles.


Product Highlights
Video Trailer:
Product Details
Number of Discs:
1
Rating:
Not Rated
Film Country:
USA
UPC:
660200316723
Additional Details
Genre:
Musical & Performing Arts
Format:
Blu-ray Disc
"...One of the best performance movies ever made..." -- 4 out of 5 stars
Total Film - Demetrios Matheou (10/01/1999)

"...It captures Talking Heads at their artistic apex, in a way that holds up as cinema, as opposed to music video....STOP MAKING SENSE is a masterpiece..."
Chicago Sun-Times - Kevin M. Williams (09/17/1999)

"...One of the most brilliantly edited movies of any kind from any era..."
USA Today - Mike Clark (10/29/1999)

"...This is a magnificent performance by America's greatest rainbow-funk art-and-party band..."
Rolling Stone - Rolling Stone Staff (11/27/2003)

"What many regard as the perfect concert movie. Filmed in exemplary manner by Jonathan Demme, it appeared to be a seemingly effortless exercise in building momentum."
Mojo - Mojo Staff (12/01/2004)

"...A rock concert film that looks and sounds like no other....It may well help inspire rock films of the future."
New York Times - Janet Maslin (10/19/1984)


Most relevant reviews
by

The Greatest Rock Show of all Time!

Stop Making Sense by the Talking Heads is by far the greatest Rock Show of All Time! Once I have my time machine completed the first place I will be going is back to Decemer1983 when they shot this movie over three nights at Hollywood's Pantages Theater. You will not be disappointed with this show. Great tunes & a fabulous performance by everyone in the band make this such a wonderful rock show! Keep an eye on David Bryne & his growing suite. I promise you will not be disappointed!

by

Great Performance

The next best thing to being there...and I was. This film captures the concert experience better than any other.

by

If you're not a Talking Heads fan, you will be

I saw this movie years ago when it was out in the theaters. I wasn't a Talking Heads fan at the time, but by the end of the movie I was. This is by far the best concert film I have ever seen. The performance of the songs is a bit more funky than the album versions (in many ways thanks to the guest musicians), and the energy and just plain fun put forth by the group will draw you in. In many ways, the performance does not seem dated at all. The Blu-ray version looks great. I highly recommend "Stop Making Sense" to everyone. If you're not a Talking Heads fan, you will be by the end of the movie, as well - I guarantee it.