Swimming With Sharks (DVD, 2005)
---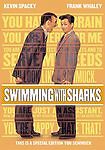 $4.99+ $3.50 Shipping
Est. Aug. 3 - Aug. 8 deliveryFrom Vancouver, Washington
Top Selling in DVDs & Blu-ray Discs
Great Prices on DVDs & Blu-ray Discs
Most relevant reviews
by

Excellent as I knew it would be!

I already watched this movie a few months ago and wanted it cheaper than usual, so I already love this product! :D Thanks!!!!

by

Awesome Movie!!!!

I saw this movie on tv the other night and had to get a copy. It may be fictional but it is so close to the truth about life & business.