Studies in Computational Intelligence Ser.: Intelligence and Security Informatics : Techniques and Applications 135 (2008, Hardcover)
---
OUR TOP PICK
delivery
Est. Aug 29 - Sep 7From Fairfield, Ohio
Returns
Buyer pays return shipping
---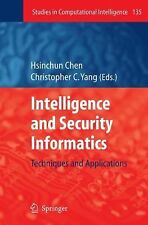 $249.00 Buy It Now
Free shipping
Great Prices on Textbooks, Education
About this product
Synopsis
Synopsis

The book is organized in four major areas. The first unit focuses on the terrorism informatics and data mining. The second unit discusses the intelligence and crime analysis. The third unit covers access control, infrastructure protection, and privacy. The fourth unit presents surveillance and emergency response. Readers will find the book valuable and useful in their study or work, especially the ISI community. The researchers and practitioners in this community will continue to grow and share research findings to contribute to national safety around the world.
Product Identifiers
ISBN-10

354069207X

ISBN-13

9783540692072
Key Details
Number Of Pages

460 pages

Series

Studies in Computational Intelligence Ser.

Format

Hardcover

Publication Date

2008-05-23

Language

English

Publisher

Springer
Additional Details
Series Volume Number

135

Number of Volumes

1 vol.

Copyright Date

2008

Illustrated

Yes
Dimensions
Weight

65.3 Oz

Width

6.1 In.

Length

9.2 In.
Target Audience
Group

Scholarly & Professional
Classification Method
LC Classification Number

TA329-348TA640-643Q
Contributors
Edited by

Christopher C. Yang,Hsinchun Chen
This item doesn't belong on this page.
Thanks, we'll look into this.