Street With No Name (DVD, 2005)
---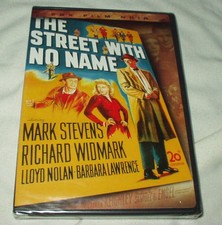 $9.70Free shipping
Est. Feb. 11 - Feb. 19 deliveryFrom Seattle, Washington
About this product
The murder of two innocent people leads to an F.B.I. investigation which uncovers the head of the city Mob. Based on an actual case.


Product Highlights
Video Trailer:
Product Details
Number of Discs:
1
Rating:
Not Rated
UPC:
024543173199
Additional Details
Genre:
Dramas
Format:
DVD
Most relevant reviews
by

The Street With No Name was built by Gang Crime (Noir)

This is one of the really exciting Film Noir movies from the late 40's through the late 50's. This one features Richard Widmark as a rising gang boss being investigated by FBI undercover agent Mark Stevens who infiltrates the gang posing as a boxer in Widmark's boxing gym and arena. Agent Stevens' FBI boss LLoyd Nolan keeps an eye out for when to storm the gangs next big caper but Criminal master mind has an inside informant with the police department ! Will the FBI get Stevens out in time? Lots of great plot twists and a shoot-out in a factory in the depths of a film noir night ! This is one of the good ones !

by

TOMMY UDO IN REDUX

Dick Widmark does his thing again and should stop it! Type-casting almost
ruined his career, however, he did indeed stop it! This movie was tough and
taunt with a film noir flare. Mark stevens made a plausible effort, but came
up short of Dick's performance. No dislikes, and I bought the dvd for my
collection; dig dark crime dramas the most!

by

Good example of film noir

Film is well done visually. The script is somewhat stilted at different points in film. The characterizations simply didn't flow.