Stephen King Thriller Collection (DVD, 2006, 4-Disc Set)
---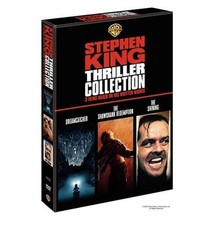 $7.72Free shipping
Est. Aug. 1 - Aug. 8 deliveryFrom Port Washington, New York
Top Selling in DVDs & Blu-ray Discs
Great Prices on DVDs & Blu-ray Discs
Most relevant reviews
by

Great Movies

Great movies

Verified purchase: No

by

Stephen King

Always entertaining!

Verified purchase: Yes | Condition: New

by

Stephen king thriller collection dvd

I bought the dvd's about a month ago. Once they arrived I played the Shawshank Redemption. Although the dvd's are new the quality of the dvd is terrible. The picture is all herky jerky. Almost like the movie is animated. I do not even like watching the movies. I can't understand what is wrong with them.