Star Wars Fate of the Jedi - Legends: Ascension 8 by Christie Golden (2011, Hardcover)
---
OUR TOP PICK
delivery
Est. Sep 1 - Sep 9From 46222
Returns
Buyer pays return shipping
---
More options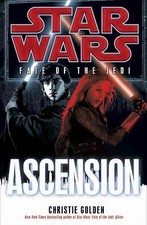 $4.28 Buy It Now
Free shipping
About this product
Synopsis
Synopsis

How long can the Jedi remain in power? How far will the Sith go to rule supreme? What chance do both stand against Abeloth? As Luke and Ben Skywalker pursue the formidable dark-side being Abeloth, the Lost Tribe of the Sith is about to be sundered by an even greater power-which will thrust one Dark Lord into mortal conflict with his own flesh-and-blood. On Coruscant, a political vacuum has left tensions at the boiling point, with factions racing to claim control of the Galactic Alliance. Suddenly surrounded by hidden agendas, treacherous conspiracies, and covert Sith agents, the Jedi Order must struggle to keep the GA government from collapsing into anarchy. The Jedi are committed to maintaining peace and ensuring just rule, but even they are not prepared to take on the combined threats of Sith power, a deposed dictator bent on galaxywide vengeance, and an entity of pure cunning and profound evil hungry to become a god.
Product Identifiers
ISBN-10

0345509161

ISBN-13

9780345509161
Key Details
Author

Christie Golden

Number Of Pages

432 pages

Series

Star Wars: Fate of the Jedi - Legends

Format

Hardcover

Publication Date

2011-08-09

Language

English

Publisher

Random House Publishing Group
Dimensions
Weight

23.5 Oz

Height

1.5 In.

Width

6.4 In.

Length

9.5 In.
Classification Method
LC Classification Number

PS3557.O359268A89

Dewey Decimal

813/.54

Dewey Edition

22
Most relevant reviews
by

Book was in terrible condition. Advertised as "very good"...NOT!!!

Verified purchase: Yes | Condition: Pre-owned

by

Best Star Wars Series Period!

One of the best Star Wars Series available, this is one of many, but I would highly recommend getting into this series. Its like having a movie play out in your head while reading this.
This item doesn't belong on this page.
Thanks, we'll look into this.