Sony PlayStation 3 MotorStorm Limited Edition 80 GB Piano Black Console
---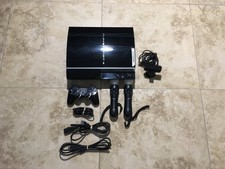 $120.00+ $5.95 Shipping
Est. Aug. 2 - Aug. 9 deliveryFrom Miami, Florida
---
More options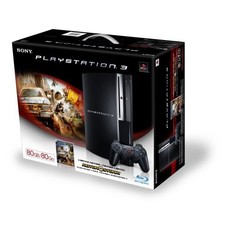 $195.86 Buy It Now
Free shipping
About this product
Product Description
Product Description

With every new generation of PlayStation, your game collection builds up. Enjoy your old games on the newest system with this Sony PlayStation 3 MotorStorm Limited Edition piano black console This MotorStorm limited edition version features 80 GB of storage, allowing you to download new and old games from the PlayStation Store, as well as letting you keep music and movies on the device. The Cell Broadband Engine processor delivers a powerful gaming experience, allowing you to seamlessly transition from game scenes with intense play and graphics. Connect wirelessly to the Internet using your home's Wi-Fi network to play multiplayer games with people from around the world. This backwards compatible unit brings the world of gaming right to your fingertips.
Product Identifiers
Brand

Sony

Product Name

Sony PlayStation 3

UPC

0711719800408

Product Line

Sony PlayStation
General
Type

Console

Console Color

Piano Black

Release Date

8/2007

Device Input Support

Game pad

Video Color Output

Color

Edition

MotorStorm Limited Edition
Audio
Audio Output Support

Stereo
Power & Battery
Power Source Types

Power Supply - internal
Dimensions
Height

3.86 in.

Weight

9.5 lb

Width

12.8 in.

Depth

10.79 in.
Technical Details
Ram Technology

RDRAM (RAMBUS)

Supported Media

BD-ROM,CD-ROM,DVD-ROM

Resolutions

1920 x 1080

Internet Connectivity

Wireless

Ram Capacity

256 MB

Region Code

North America

CPU

Cell Broadband Engine
Features
Country Region

North America